Reunion on Mid-Autumn Day with Full Moon--International Patients of MCHG Celebrating Mid-Autumn Festival
On Sept. 22, a special party celebrating Mid-Autumn day was held in St. Stamford Modern Cancer Hospital Guangzhou. Cancer patients and their family coming from Malaysia, the Philippines, Vietnam, Thailand, Indonesia and Canada attended the event and enjoyed the charm of Chinese festival and also the warmth of family.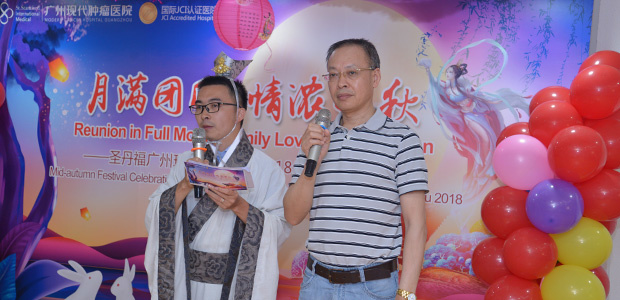 Wang Huaizhong(R), dean of St. Stamford Modern Cancer Hospital Guangzhou extending best wishes to patients
The event, centered on dissemination of traditional Chinese culture, were specially designed with several parts such as Han Chinese clothing show, learning Chinese character, reading Chinese poetry, during which, international patients felt great joy and thrill. "My mom was always being gloomy since she got diagnosis. It's a great pleasure to be invited to join in such occasion. Seeing her wearing beautiful smile and Han Chinese clothing, I'm so relieved that she looks like in good mental condition. I also cherish best wishes for her positive attitude towards cancer and quick recovery", a family of patient said.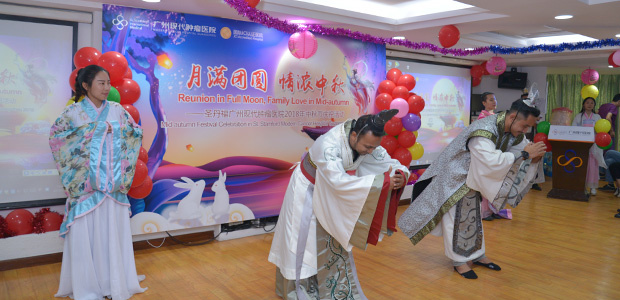 Han Chinese clothing show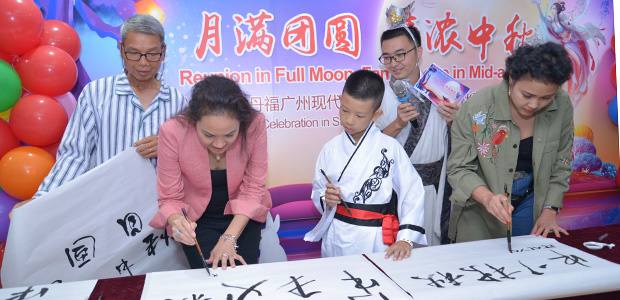 Patients and family practicing calligraphy with Chinese brush
Eating mooncakes and lantern riddle quiz are essential parts of the Mid-Autumn Festival. The staff of St. Stamford Modern Cancer Hospital Guangzhou provided mooncakes with different fillings for cancer patients and their family. Furthermore, international patients interacted with each other during the lantern riddle quiz and everyone was totally integrated into the "big family" of St. Stamford Modern Cancer Hospital Guangzhou.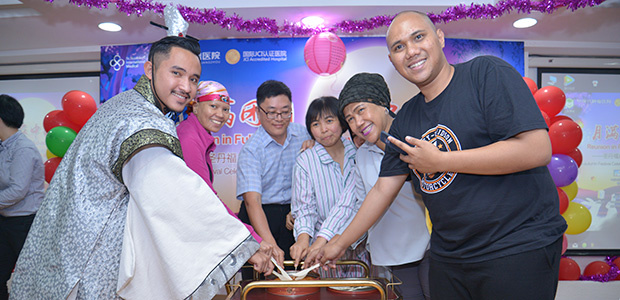 Sharing mooncake
It happened to be ALMA MAE PALLON LATUMBO's birthday. She is a cancer patient from the Philippines. All the medical staff gave her a birthday greeting at the event and her sisters in the Philippines also sent a blessing video. She was so touched that expressed, "I feel sorry for not staying home with mom during the Mid-Autumn Festival reunion. With all of you around and the beautiful blessings, I have strength and courage to fight against cancer. We're together in the cancer journey."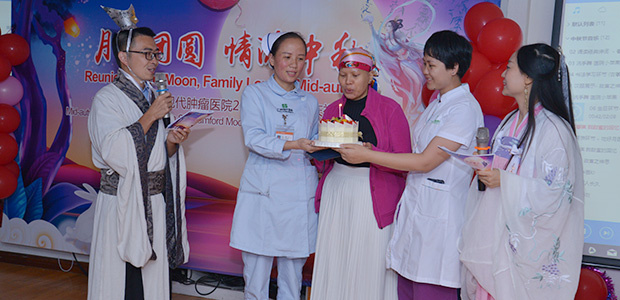 Celebrating birthday of Filipino patient ALMA
During the event, CHERRY LEONO, cancer patients from Indonesia, conducted impressive performance with Han Chinese clothing show and popular dance. She also sent blessings to all cancer patients, "I hope that the patients here are as optimistic, confident and positive as me. Although we're suffering from cancer, we must be strong against cancer. Cancer is not the end of everything, we must love ourselves and love our family and love life."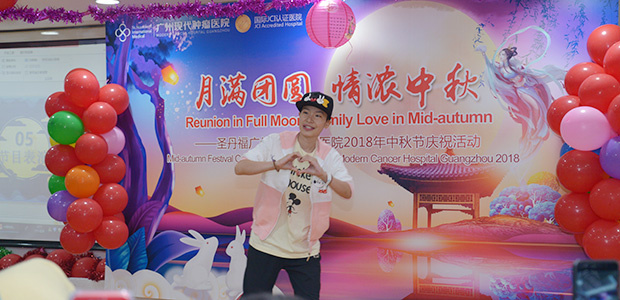 Indonesian patient CHERRY LEONO performing a popular dance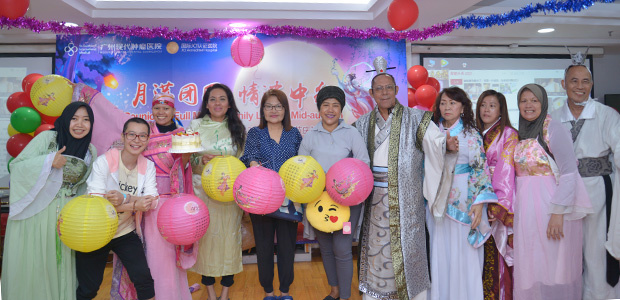 International patients and family in Han Chinese clothing
Wang Huaizhong, dean of St. Stamford Modern Cancer Hospital Guangzhou, noted that:" As a JCI-accredited international cancer hospital, St. Stamford Modern Cancer Hospital Guangzhou unwavering upholds the principle of 'all patient-centered' service, provides most cutting-edge cancer treatment, meanwhile, creates a harmonious environment for cancer patients. Through the Mid-Autumn Festival celebration, Staff of St. Stamford Modern Cancer Hospital Guangzhou conveys the idea of 'fighting cancer with positive attitude' and provides the most attentive service with warmth and love to help cancer patients.