Comprehensive Treatments Help Stomach Cancer Patient Defeat Cancer*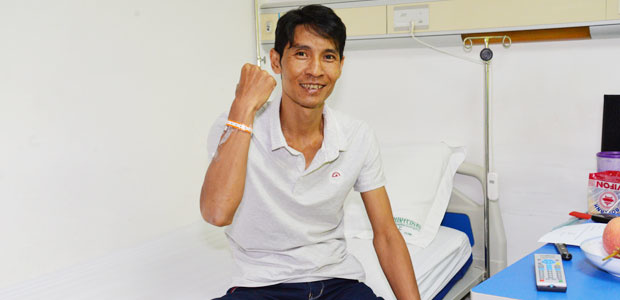 Bui Ba Hien

Testimonials: Have confidence, and cooperate with doctor for treatments. Don't give up!
Bui Ba Hien, a 34-year-old stomach cancer, comes from Vietnam. In July, 2016, Bui Ba Hien arrived at St. Stamford Modern Cancer Hospital Guangzhou and was diagnosed with stomach cancer stage 3. Before he was admitted to the hospital, he got diagnosis in Vietnamese local hospital where the doctor advised him to take surgery. But he refused and wanted to find out a better hospital and treatment.
With decision, he came to China and chose St. Stamford Modern Cancer Hospital Guangzhou for treatments. Multidisciplinary team (MDT) tailored a minimally invasive treatment program which used interventional therapy as a main treatment. After interventional therapy, his tumor marker has dropped from 3954 u/ml to 78 u/ml. In order to treat cancer thoroughly, oncologist suggested that he take total gastrectomy. He agreed with that.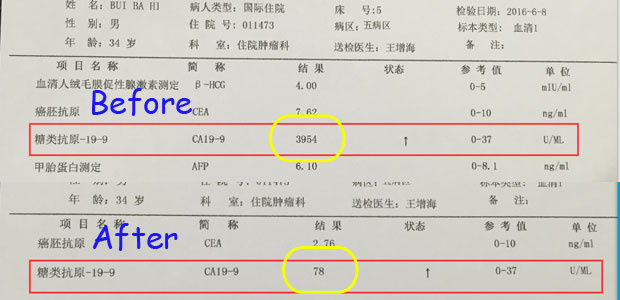 Comparison of tumor marker before and after interventional therapy
For surgery, Bui Ba Hien was so worried a lot. Would surgery be successful? How would life be after losing stomach? Would health become the same as before? These were uncertain, but doctor gave him answer that gastectomy was a good choice according to his current condition.
On Sep. 11, 2016, Bui Ba Hien underwent surgery. Surprisingly, the whole procedure was so successfully. Tumor was removed completely with good treatment effect. Although his weight decreased, he got improvement after rest at home for a month.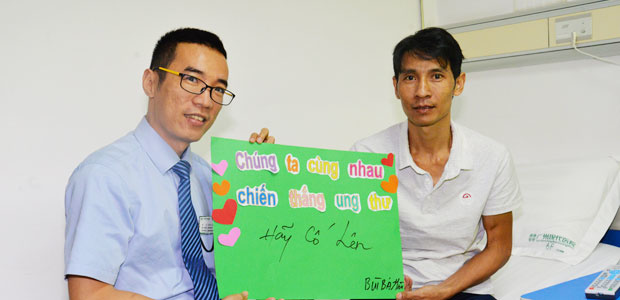 Bui Ba Hien and translator
At the beginning of Nov. 2016, we visited Bui Ba Hien. He looked thin after surgery, but he was vigorous. At that time he was busy in making his sea food meal which was quite tasty. He must stew the food until it became tender enough to eat. Since his stomach was removed, he must depend on intestine to digest the food. What's more, he must eat some food every 1 hour. It's not a good experience. But for Bui Ba Hien, he said frankly, "Compared with cancer that threatens life at any time, it is easier." He felt lucky to choose this treatment program. At present, he is cancer-free.
During treatment, what made him feel upset was not the disease but the death threats. He is just 34 years old. With a beautiful wife, 2 adorable children and parents, he has too much responsibilities and love that cannot be abandoned, so he must struggle to live. After the ending of all treatments, he hopes that he can get health again and continue to work and take responsibilities as a son, a husband, and a father. Fortunately, through interventional therapy and surgery, he is in better condition. There is a hope!