Minimally Invasive Therapy saved 71-year-old Stage IV Prostate Cancer Patient from Death*
  SOMPORN NA PHATTHALUNG, a 71-year-old Thai who was diagnosed with stage IV prostate cancer in January, 2017. Though he took surgery and chemotherapy in a local Thai hospital, the treatment efficacy was not as good as expected. Conversely, SOMPORN's condition turned worse due to the severe side effects brought by chemotherapy and surgery. Generalized pains and aches kept him in bed, SOMPORN couldn't have a normal life at all. After comprehensive treatment in St. Stamford Modern Cancer Hospital Guangzhou, SOMPORN's condition gained great improvement, he no longer suffers from pain and is able to walk freely, and his weight has gained 10 kg.
  Despair after "Death Sentence"
  Earlier in 2001, SOMPORN has taken coronary stent implantation in a Thai local hospital. When SOMPORN got muscular stiffness and speedy weight loss in December 2016, his families and he jointly believed that those symptoms were caused by the implanted coronary stent. However, SOMPORN's health problem was much worse than imagined. SOMPORN was detected with stage IV prostate cancer during a regular physical checkup in January 2017. Though SOMPORN was told to only have 9 months left, his family did not dare to tell him the truth because they afraid that the bad news may make his condition worse. The heartbroken news did not trap them in despair, they took SOMPORN to a hospital in Bangkok for surgery in March 2017. Being treated every day, SOMPORN soon realized that the surgery he took was not about his heart trouble. Finally, he got the truth that he got stage IV prostate cancer.
  Final Shred of Hope--St. Stamford Modern Cancer Hospital Guangzhou
  One month after surgery, SOMPORN's condition deteriorated, he could not even walk due to the severe back pain. On June 2017, SOMPORN took an MRI scan whose result showed that the cancer cells had spread to his thoracic vertebra and lumbar vertebra. SOMPORN received chemotherapy and radiotherapy on a local doctor's suggestion. To his and his family's disappointment, those two therapies did not control the disease but make it worse. SOMPORN was allergic to chemotherapy drugs, at that time he was too weak to take any further cycles of chemotherapy and radiotherapy. SOMPORN's condition keep deteriorating, his whole family realized that it's the high time to look for other effective treatment for the man they love so much.
  On the recommendation of a friend, SOMPORN's wife came to Bangkok branch office of St. Stamford Modern Cancer Hospital Guangzhou for help. At that time the hospital was just about to have cancer symposium in Bangkok, SOMPORN's wife registered immediately. After the symposium and expert consultation offered by the hospital, SOMPORN's family learned that the hospital is equipped with 18 cutting-edge minimally invasive therapies, such as interventional therapy, cryotherapy, natural therapy, etc, which has already helped numerous cancer patients. Without any hesitation and doubt, the whole family believed that St. Stamford Modern Cancer Hospital Guangzhou is the final shred of hope:"My husband's condition was really bad at that time, he would die if he does not take treatments. So we decided to go to China for a try."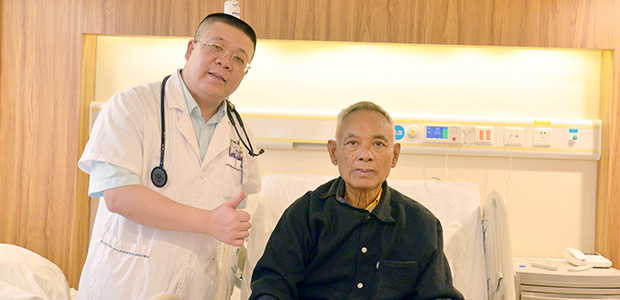 SOMPORN and his attending doctor
  Natural Therapy Saved SOMPORN from Death
  With the company of his wife and children, SOMPORN admitted to St. Stamford Modern Cancer Hospital Guangzhou on Aug. 12, 2017. He was unable to walk due to back pain and has already lost 20 kg at admission. After a complete examination, the Multidisciplinary Team (MDT) soon tailored a treatment plan that focused on natural therapy for him based on the examination result. After the first session of natural therapy, SOMPORN was able to walk for a while! After returning to Thailand, SOMPORN's colleagues came for a visit, they were surprised at his good condition, they took for granted that SOMPORN would be really sick because before they were told that he was only several months left. SOMPORN's improvement surprised both his families and colleagues.
  SOMPORN came back for natural therapy on May 4, 2018, actually it was his second admission. SOMPORN's condition keep improving, no more pain, and he is able to walk freely. SOMPORN's wife quieted satisfied with the treatment effect:"I would like to express my gratitude to the doctors, nurses and translators who ever take good care for my husband. Nurses here are very nice, they even went to the supermarket to buy fruit for my husband when he was eager to eat fruit. I was really touched!".