NG TJAI HONG: Treated by Minimally Invasive Therapy, my tumor has shrunk by 75%*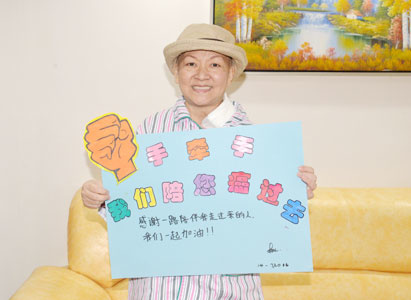 NG TJAI HONG
Testimonials: Simile keeps the doctor away, please face with cancer optimistically.
NG TJAI HONG, 54 years old now, comes from Malaysia. As a housewife, she takes good care of her husband and children. However, a sudden bad news broke her happy life three years ago.
3 years ago, NG TJAI HONG suddenly suffered a serve abdominal pain, it was so painful that she had to go to hospital for further examinations. Results show that NG TJAI HONG got ovarian cancer. Although she took surgery to remove the tumor, later she found out there was a small tumor on the left side of her neck.Finally, NG TJAI HONG was diagnosed with ovarian cancer, with metastasis to the lymph node. Doctor predicted that she could live no longer than one year, and suggested her to take chemotherapy immediately. However, NG TJAI HONG refused, she told us the reason:"I know that chemotherapy causes great damage to human body, like vomiting, hair losing, etc. I thought I couldn't bear the suffering."
Introduced by a relative, NG TJAI HONG started to drink a kind of liquid medicine, which was claimed to developed by a Singaporean professor. However, two and a half years passed, her tumor did not shrink but became much bigger, and the color turn into red. At that time, NG TJAI HONG was very confused, keep drinking the liquid medicine or go to see other doctors?
Under the advice of her husband and sister, NG TJAI HONG finally decided to see a doctor who is specialized in traditional Chinese medicine. Her condition was so serious that the doctor only gave her medicine for one week. After taking the medicine, NG TJAI HONG's condition turned better but the tumor on the left side of her neck started bleeding. She was so scared that did not know what to do, even prayed to Buddha for help.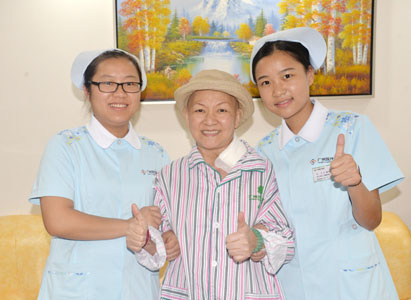 NG TJAI HONG and nurses
Her relatives and friends all helped look for a better ovarian cancer treatment for her. Sooner, her niece found Modern Cancer Hospital Guangzhou on the internet and told her to take treatment there. With the accompany of her families, NG TJAI HONG went to the Kuala Lumpur Office of MCHG to get detailed information about the treatment. After consultation, NG TJAI HONG decided to take cancer treatment in China.
NG TJAI HONG came to Modern Cancer Hospital Guangzhou on May, 2016. She was unable to speak when hospitalization, because the tumor pressed on her nerves. Considering her serious condition, the multidisciplinary team (MDT) of MCHG quickly made her a treatment plan: cryotherapy, interventional therapy and natural therapy.
After receiving comprehensive treatment of cryotherapy, interventional therapy, natural therapy, NG TJAI HONG is able to talk again now. To her most happily, the tumor on the left side of her neck has shrunk by 75%. NG TJAI HONG told us happily:"I spent two and a half years in treating my tumor, but it became bigger and bigger. I only received treatment here for two months, but my tumor has shrunk by 75%!"
NG TJAI HONG showed her sincere gratitude to her families as well as doctor and nurses in Modern Cancer Hospital Guangzhou for their encouragement and considerate care. NG TJAI HONG cried when she talked about her elder daughter:"in order to better take care of me, my elder daughter quit her job though she just got it after college graduation. My daughter told me that she may has many job opportunities, but she only has one mother. I have four children, they always encouraged me and told me to be brave; my friends and relatives also gave me support and courage. For my families and friends' sake, I will try my best to fight against cancer."
At the end of the interview, NG TJAI HONG shared her anticancer experience to other cancer patients:"Simile keeps the doctor away, please face with cancer optimistically. Don't hide in darkness, step out and you will find things are different."