2-Month Minimally Invasive Treatment gives Terminal Multiple Myeloma Patient New Hope*
LEE TUTI SUSANTI, a 55-year-old Indonesian. She has suffered from back pain and cough since June 2018, and was diagnosed as osteoporosis in a local Indonesian hospital. The diagnosis did not attach SUSANTI's attention, unexpectedly, it's actually an early sign of cancer!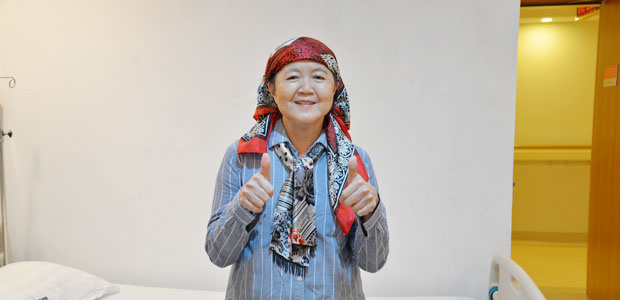 LEE TUTI SUSANTI
Every year SUSANTI takes routine physical checkup in Malaysia. On the result of her routine checkup of 2018, her hemoglobin decreased while her globulin raised sharply. She went to a hospital in Singapore for further examination and diagnosis, bone marrow aspiration showed that there were 64% of cancerous cells in her blood, eventually she was confirmed to have terminal multiple myeloma.
Say No to Systemic Chemotherapy and Turn to Minimally Invasive Therapy
"Chemotherapy was recommended by the doctor in Singapore, but we rejected. We have found a new treatment mode named"combined therapy of TCM & minimally invasive targeted treatment" in Guangzhou, China through WhatsApp. The combination of cutting-edge minimally invasive therapy and traditional Chinese medicine not only improves the treatment efficacy but also lowers the risk of toxic side effects." SUSANTI's daughter said.
Coincidentally, a cancer friend also suggested SUSANTI taking treatment in St. Stamford Modern Cancer Hospital Guangzhou:"Both of us are diagnosed with multiple myeloma. She is in good condition now and has been survived for many years after taking minimally invasive treatment in St. Stamford Modern Cancer Hospital Guangzhou!" The successful treatment experience of SUSANTI's friend greatly boosts her confidence in taking cancer treatment abroad.
64% of Cancerous Cells in the blood has reduced to 14% after Minimally Invasive Therapy
Accompanied by her daughter, SUSANTI was hospitalized to St. Stamford Modern Cancer Hospital Guangzhou on Aug. 10, 2018. After a joint consultation, the Multidisciplinary Team (MDT) quickly made her a personalized treatment plan based on her condition: interventional therapy, natural therapy and traditional Chinese medicine.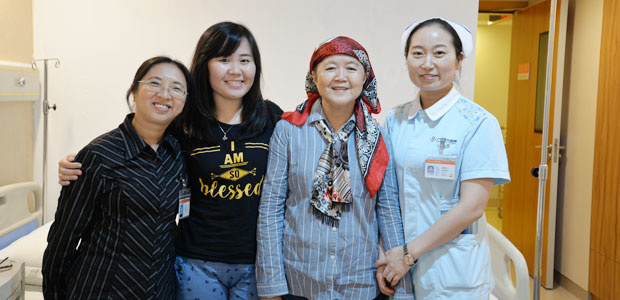 LEE TUTI SUSANTI and medical staff
Her attending doctor Mr. Yao Zhongping explained:"Unlike common solid tumors, multiple myeloma is a kind of systemic haematological malignancy commonly treated with chemotherapy. However, it's of great risk for SUSANTI to receive chemotherapy at her age, not to mention the great toxic side effects brought by chemotherapy. For interventional therapy, anti-cancer drugs are directly given to the tumor with a 1-2 millimeter incision, causing fewer side effects and drug concentration is 2-8 times higher than systemic chemotherapy, killing cancer cells more accurately. What's more, the combination of natural therapy and TCM wipes out the remaining cancer cells and improves patient's immunity, helping patient yield better treatment outcome."
SUSANTI could not help feeling nervous when she first took interventional therapy, because she never heard about this cutting-edge treatment in both Malaysia and Singapore.
"Different from the chemotherapy I knew before, interventional therapy causes no side effects and discomforts, I was able to walk soon after the treatment. Oct. 16 was the third time that I have admitted to St. Stamford Modern Cancer Hospital Guangzhou, at that time my symptoms of pain, cough and fatigue have already disappeared! According to the latest examination result, the cancerous cells in my blood have reduced from 64% to 14%."SUSANTI answered with satisfaction and excitement when asking about her current condition.
Up till now, SUSANTI has received 4 sessions of interventional therapy and 2 sessions of natural therapy. Minimally invasive treatment will be continued till all the cancer cells disappear.
Optimism is a Good Remedy when confronting Cancer
Beautiful, humorous and optimistic, these are the words that medical staffs in St. Stamford Modern Cancer Hospital Guangzhou use to describe SUSANTI. "Optimism is a good remedy when fighting against cancer, only believe in yourself, can you defeat cancer!"SUSANTI shared her anticancer experience, hoping her optimism can have a positive impact on the journey of other cancer patients!