TONY GUNAWAN: Interventional Therapy Helps Me Defeat Lymphoma*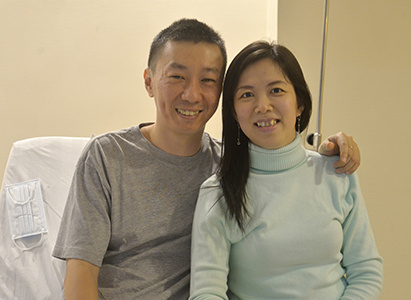 TONY GUNAWAN and his wife
Testimonial: Every patient should find their personalized therapeutic plan. Be confident! Do not give up!
TONY GUNAWAN, 38 years old from Jakarta, Indonesia, was diagnosed with lymphoma.
In 2015, He noticed there were some lumps in his both sides of neck but he did not pay much attention to it. As time passed, the lumps grew bigger and he gradually felt painful and showed the symptoms of dizziness. Thus, he went to Malaysia for a further check up with the company of his wife. However, the result showed that the lumps were cancerous and he needed to take a biopsy for a confirmed diagnosis but he refused to take it. They were afraid of knowing the true test result and taking surgery, chemotherapy and radiotherapy, which would make him suffered. They still needed to take care of their patients and raise his 7-year-old daughter and 3-year-old son.
When they chose the best hospital for cancer treatment, their aunt recommended them Modern Cancer Hospital Guangzhou. Their aunt was diagnosed with breast cancer which reoccurred after treatment in local hospital. However, since she took treatment in Modern Cancer Hospital Guangzhou, she got a good effect and her body recovered well. What their aunt went through encouraged them a lot. On December, 31st, he was hospitalized in Modern Cancer Hospital Guangzhou.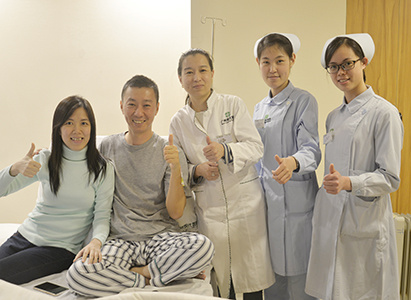 TONY GUNAWAN and doctors and nurses
He took a detailed check-up soon and the result showed that there was lymphoma, 2x3cm. Though his condition was severe, the detailed therapeutic regimen, which was made by our multidisciplinary team (MDT), and the advanced technologies here drove their fear and worry away. On January 12th, TONY GUNAWAN underwent the first session of interventional therapy. Before taking that, he was extremely nervous because he did not know how long would the interventional therapy take and how the effect would be. After that, he is never afraid of it because it only takes a while and just feels a little pain when being injected the drugs now. So far, he has undergone four sessions of interventional therapy. After the second session of interventional therapy, his tumor has shrunk to 2x1 cm. During the treatment, his condition turns good. He does not feel dizzy and painful any more. His appetite and sleeping also become better. Interventional therapy has not caused any side effects, no vomiting, no nausea, no hair loss. His mental status is good, too.
During this treatment, Modern Cancer Hospital Guangzhou leaves an impression to this couple. The thoughtful service, careful nurses and the cozy and comfortable environment minimize their anxiety and fear of taking treatment in foreign country. Dr. Yao is his attending doctor who always patiently explains to them and helps drive their fear away. They also take part in the activities to go around in Guangzhou which are held by hospital regularly. During the interview, TONY GUNAWAN expressed thank you to his wife and he also encourages other cancer patients not to give up hope. Every cancer patient can find their personalized treatment plan!