Minimally invasive therapy saved a 27-year-old young man's life from gallbladder cancer*
27-year-old Nguyen Trong Thuy comes from Vietnam, working in a greenhouse vegetable shed. In his semi-annual regular checkup in December 2017, a mass was found in his gallbladder, and doctor suggested him to resect it after New Year.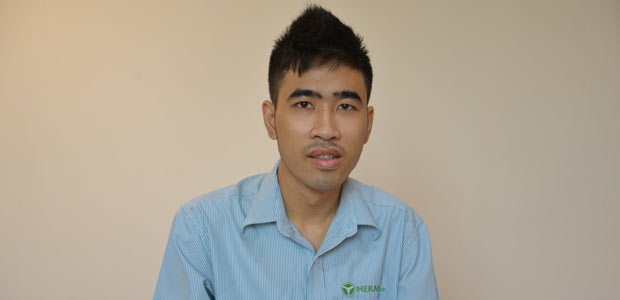 Nguyen Trong Thuy
On March 20th, 2018, Nguyen Trong Thuy went to Viet Duc hospital, a well-known and authoritative hospital in Vietnam, and have his surgery done over there, removing tumor in his gallbladder. Unfortunately things are not quite that simple, it surprised him that doctor found multiple mass in his liver. Sooner after his operation, lump in his liver was biopsied and it turned out to be gallbladder cancer with multiple liver metastases.
On hearing of gallbladder cancer, it depressed Nguyen Trong Thuy and his families, especially his wife and parents, which not even eased a bit after his surgery and two courses of chemotherapy. "I work in greenhouse vegetable shed and I have a regular commuting pattern. I didn't feel any discomfort except being tired which I contributed to the work. I unexpected that I would be attacked by cancer since there wasn't any symptom"said Nguyen Trong Thuy.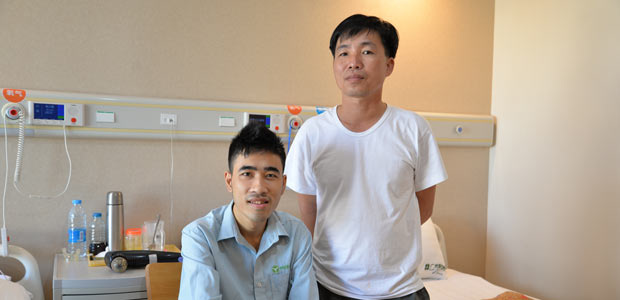 Nguyen Trong Thuy and his father
When they felt helpless, Nguyen Trong Thuy's wife happened to learn St. Stamford Modern Cancer Hospital Guangzhou through her friend, who is a cancer survivor and a doctor, too. Her friend was confirmed as cancer and had her treatment in Singapore but unfortunately fail to yield good efficacy and was recommended St. Stamford Modern Cancer Hospital Guangzhou, where she had minimally invasive therapy and her disease well under control. On hearing the good news, Nguyen Trong Thuy and his family went instantly to the Hanoi Office of St. Stamford Modern Cancer Hospital Guangzhou for cancer consultation. With the help of staff in office, he finished his visa application and flew to China, accompanied by his father on May 10, 2018.
"When I first came here, I felt pain in my stomach and tired all the day, and I looked very bad. I believed chemotherapy in Vietnam had weakened me. After I had done the relevant checkups here, my attending doctor Hu Ying told me that my gallbladder cancer has spread to my liver, and there were two big tumors measuring 1.7 cm*1.9 cm and 1.1 cm*1.3 cm respectively and multiple nodules in my liver. In the end, she tried to comfort me and told me that my condition would be controlled", said Nguyen Trong Thuy, recalling the first time of his admission. According to his attending doctor Hu Ying, although his cancer had deteriorated to stage IV, but fortunately it only spread to his liver, which can be treated with good control. After joint discussion of the Multidisciplinary Team (MDT), Nguyen Trong Thuy was arranged a minimally invasive treatment plan of interventional therapy and cryotherapy.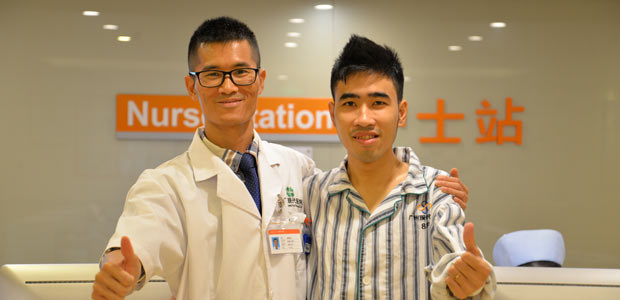 Doctor Huang Deliang and Nguyen Trong Thuy
"I have never heard of cyotherapy in Vietnam, we have only one way to treat cancer and it is surgery. During the procedure of cryotherapy, a needle was inserted into the tumor to release argon and helium, to frozen the tumor first into an ice ball and then to heat it and blast the tumor. It requires no surgery but it clears out the tumor. I did not lose my consciousness for the needle was inserted into my body under local anesthetic and I didn't feel much pain and bleeding." said impressively Nguyen Trong Thuy. Upon his first admission, he received cryotherapy and interventional therapy.
Nguyen Trong Thuy started his second course of treatment in St. Stamford Modern Cancer Hospital Guangzhou on June 10, 2018, after his stay at home in Vietnam for half a month. The doctor once again performed him interventional therapy. At this time, Nguyen Trong Thuy has been familiar with the treatment process and feels very relaxed. Because interventional therapy belongs to minimally invasive treatment, which causes small bleeding little pain and requires only half an hour.
Early July this year, Nguyen Trong Thuy was admitted to the hospital on the date of the doctor's appointment and continued his treatment. This is his third hospitalization. At this time, Nguyen Trong Thuy looks like ordinary people. His symptoms are no longer there. He has gained 2 kg in his half-month at home and restored his vitality. What makes him even more happy is that after the latest CT review, the two larger tumors in his liver measuring 1.7 cm*1.9 cm and 1.1 cm*1.3 cm have shrank by about 45%. In order to consolidate the treatment effect, the doctor once again arranged him interventional therapy during this hospitalization.
"The effect of minimally invasive therapy can be seen very quickly, and there is almost no side effect to my body. Unlike systemic chemotherapy, it brings no serious side effects. I am very satisfied with minimally invasive therapy. Thanks minimally invasive technology for giving me hope. I am still young at the age of 27, my daughter is only one year old, and I am the pillar of my family, I want to live, I will actively receive treatment, take good care of myself and develop healthy habits." seeing such treatment effect, Nguyen Trong Thuy said happily.