Linda: Endometrial Cancer can Never Destroy My Life*
My name is Linda, 62 years old from Jakarta, Indonesia. I was diagnosed with stage III endometrial cancer in 2014, but now the tumor was gone after taking interventional therapy, natural therapy and radical resection in St. Stamford Modern Cancer Hospital Guangzhou. Three years has passed, I am still alive and healthy. Regular monitoring is required once a year and the latest CT scan showed that there's no sign of recurrence. Endometrial cancer was one terrible episode in my life but it can never destroy my life.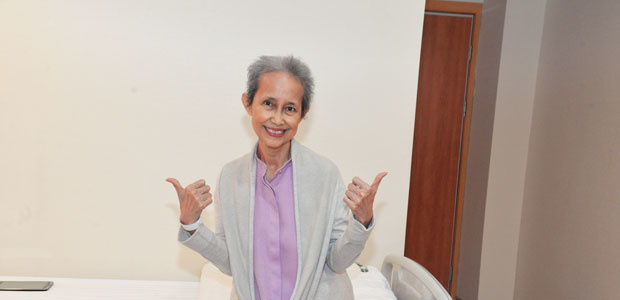 Linda
I had suffered from vaginal bleeding since February 2014, but at that time I was already stop menstruating. Since there was no pain and the amount of bleeding was low, I did not pay much attention and only take herbal medicine. However, the bleeding was not relieved by the herbal medicine instead it worsened. Eventually, I was rushed to a hospital in Jakarta because of massive vaginal bleeding and was confirmed to have stage III endometrial cancer.
I knew how terrible chemotherapy and surgery are because I have a friend with cancer who was greatly tortured by the side effects of surgery and chemotherapy, so I told myself never take chemotherapy and surgery even if I'm sick. I never thought that I would really become a cancer patient one day. I firmly refused doctor's suggestion of surgery and decided to look for better endometrial cancer treatment. Knowing my concern, a radiologist in Jakarta recommended me to take treatment in China. Honestly, I knew nothing about China at that time, not to mention the cancer treatment they offer. I searched on the internet and fortunately found St. Stamford Modern Cancer Hospital Guangzhou and its branch office in Jakarta. Along with my family, I went to its branch office in Jakarta and met a doctor who offered me treatment plan after a thorough review of my medical reports. UMAR, a cancer patient I met in the office, shared his treatment experience in St. Stamford Modern Cancer Hospital Guangzhou which made me motivated to take cancer treatment in St. Stamford Modern Cancer Hospital Guangzhou.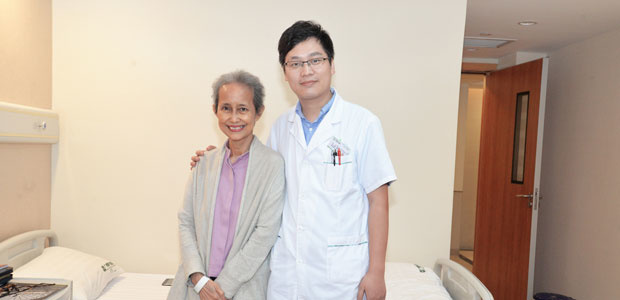 Linda and her attending doctor Dr. Yao Zhongping
With the assistance of staff in the office, I got my visa and air ticket quickly and came to Guangzhou for treatment. I was welcomed by the multidisciplinary team(MDT) who made a treatment plan composed of interventional therapy and natural therapy for me based on my condition. Surprisingly, my condition was under well controlled after the first session of therapy. However, the following treatment made me a little bit upset and confused because surgery was highly recommended by my attending doctor-Dr. Yao Zhongping. Honestly, I did not want to take surgery so I refused Indonesian doctor's suggestion and came here for treatment. But surgery was still recommended here, I was upset and did not what to do. Knowing my concern, Dr. Yao explained to me patiently, he said: "I know how you feel and your fear towards surgery, but we studied your case and came to a conclusion that surgery is the best choice for you. Don't you worry, we will do the best for you. I calmed down and reflected on the treatment experience here. I felt comfortable here though I have an intense fear of hospital, my condition was greatly improved after the first session treatment. And so, with God speaking to me, I believed that surgery was the best choice for now. I had it in November 2014.
Indeed, God was with me all throughout, surgery was successful! I was able to travel to England two months after surgery. I feel great and healthy. Everyone felt tired except me after walking for a long time. My condition has been greatly improved and I was more determined to take cancer treatment here.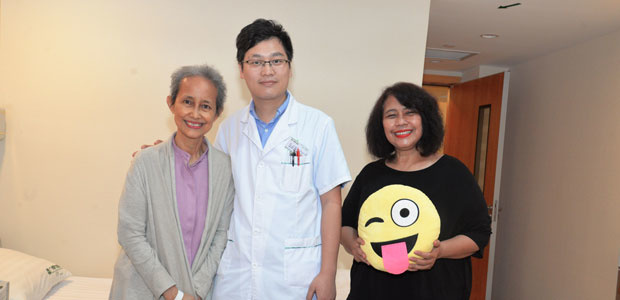 Linda and her attending doctor Dr. Yao Zhongping
Now I come back for reexamination, CT scan shows that there is no signs of recurrence, in other words, there is no cancer cells inside my body. It has been more than 3 years since I was diagnosed with endometrial cancer, but I'm still alive and healthy. Therefore, I would like to express my sincere gratitude to doctors, nurses, translators and other staff in St. Stamford Modern Cancer Hospital Guangzhou. Thanks to Dr. Yao for his competence though we have language barrier, but he can always feel my concern and extends his comfort. Thanks to all Indonesian interpreters for their professionalism. I do worry about the language before I came here, but the 24 hours free translation service really brought so well. Thanks to all medical staff here for their meticulous care, it's their effort that help me regained health.
I've been working as a volunteer for 22 years before being diagnosed with endometrial cancer. Although the disease disrupted my life to some extent but it never destroyed me. I am currently working as a volunteer in as much as I can handle. With what I have been through, I can easily say with other patients that cancer should never destroy one's life. Go to God, pray and believe, religiously follow the doctors' advice.