I Watched My Mom Defeat Cancer-daughter of a lung cancer patient*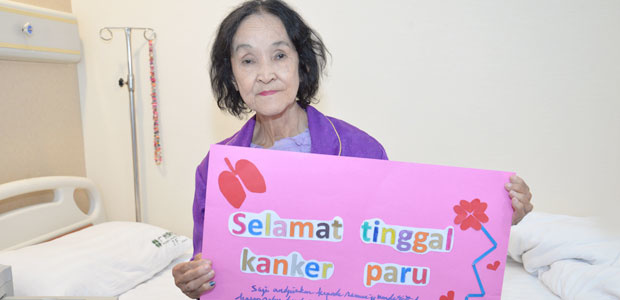 LIE KEUW JOEN
Testimonials: "Don't ever give up, have confidence in the hospital, in the doctor and also in yourself. As long as you pray with all your heart, adopt doctor's advice and follow a special diet, you'll make it."
1. Sudden Calamity for a Happy Family
It was a beautiful morning of May in 2015, my mom went to the church as her routine. By chance, she met her friend found her a lump on her neck and suggested to go for a checkup. It turned out that my mom got left lung cancer stage IV with metastases to lymph node on left neck. The biggest tumor was about 3*2cm. What an unbelievable and heartbreaking news for the family. I weep to myself but it seemed like everything's fine to my mom. She said, "I've been praying to God with all my heart. No matter what trouble I stuck in, God will help me get through." The family was somehow so glad and relieved that mom had that positive outlook.
At the beginning, we resorted to local hospital and the doctor opted of surgery to remove tumor in the neck and a combined treatment of chemotherapy and radiotherapy to lung cancer. With her old age and knowing the severe side effects of therapy, we declined the option. As the disease advances, symptoms such as joint pain, backache, dizziness and coughing up blood were manifested. We tried everything we could to find best solution until one day, a friend told us about St. Stamford Modern Cancer Hospital Guangzhou could be a worth trying. Therefore we went to the office in Jakarta and got to know that it's a hospital specialized in cancer treatment. The doctor tailored a treatment plan for my mom after checking her examination report and also introduced the cutting-edge cancer treatment technologies, which made me astounded as we never heard about these therapies back in our country.
In September, we started our journey of looking for treatment and our destination located at Guangzhou, China.
2. Find Help and Hope in MCHG
Mom was so excited about this long-distance "trip" and she told me that she dreamt of traveling in China and now it's happening with a childlike smile on her face. I almost forgot that she's sick. In September 22, hospital staff picked us in the airport and set everything up for us. The extraordinary service which I never experienced in other hospitals really surprised me.
On the next day, my mom took thorough checkup and the Multidisciplinary Doctor Team immediately conducted discussion and tailored a treatment plan, applying interventional therapy first. Although Mom's always being positive, she felt a little anxious the night before the first session of treatment because she's been healthy and never underwent any major surgeries before. The doctor explained how the therapy will be conducted and she finally felt a bit relieved. Amazingly, mom's tumor in the neck shrunk after the first session and the symptoms of coughing up blood and insomnia out of backache also have been alleviated. In addition, she regained appetite. The next session of treatment was scheduled in one month, so we went back home, waiting for another one.
3. Keep Faith in God and There will be a Way out
Few days after going back, mom told me that, "In my dream, I saw a sparkling light ahead. When I approached it, just found Jesus, who told me to be strong and don't ever give up. That next morning, with so refreshed condition, she even cleaned the room. She said it's a sign from God, indicating that she had chosen the right hospital for treatment. The dream strengthened mom's determination to continue the treatment and also granted her courage and confidence. As a devoted follower of God, she never stopped praying even during the period of treatment.
Underwent 4 sessions of interventional therapy and a combined treatment of cryotherapy, three oxygen therapy and natural therapy, mom gradually recovered and the symptoms of coughing up blood, backache and dizziness have disappeared as well as the tumor in her neck. The tumor in her left lung has been shrunk by 50%. According to her attending doctor, Yao Zhongping, if she resumes the treatment, the tumor would be gone totally.
Commonly, the survival time for advanced lung cancer patient covers 10 months at most. But my mom has been survived almost two years. Currently, she looks great and nothing like a patient in her.
Standing for all my family, I express my gratitude to MCHG for bringing us new hope and happiness.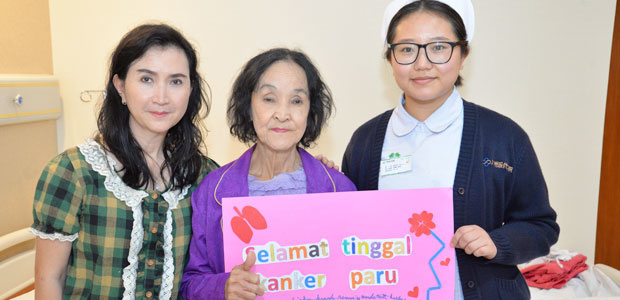 LIE KEUW JOEN, her daughter and nurse
4. Beautiful Memory in MCHG
We have spent a wonderful time in MCHG, being so far away from own country, we never felt aloof. As mom's outgoing personality, medical staff treated us like friends. There considerable and devoted care made us feel like home.
I even held a birthday party for my mom in the ward and we invited nurses and doctors. All people gathered together, sang the birthday song and ate cake. I shed tears when I saw happiness lingering on her face. I admire the cutting-edge technologies of MCHG and along with mom's optimism helped yielded favorable outcome.
During our stay in MCHG, we also attended various activities such as cooking competition, making rice dumpling on Dragon Boat Festival and Christmas party. All these activities enriched the relationship between all patients and medical staff. We lived in this big family and made concerted effort to fight against cancer.
During this lung cancer trip, it seemed like I keep company with her, instead, it's her optimism and consolation that supported me in the most devastated situation. I'm always her little girl.
Mom told me before discharge, "my sweetheart, thank you for accompanying me in this journey, it means a lot to me. Without you, I couldn't make it. After the treatment, we will take a trip to Shenzhen, Macao and Hong Kong. I can't wait to travel every corner of this beautiful country with you."
5. Warming Tips for Caregivers:
Have taken care of my mom for almost two years, I deserve a say in what a caregiver should do to help cancer patient.
First of all, maintain some normal approach. Just remember, people with cancer aren't just cancer patients, and they don't want to be treated differently.
Listen and talk, ask questions to show you care, but let your friend or loved one lead the conversation. Cancer patients are still people, and they want to see you, talk to you and laugh with you. It would be the best if you can tell jokes.
Distract him or her from focusing on the disease or pain, that is to say, help take their minds off cancer, even if just for a little bit.
Find a way to help and just do it. Don't ask if there's anything you can do. Just doing something for friends with cancer instead of asking what they need.
It would be great if you can cook. Home-cooked meals can relieve patients' pressure and anxiety. Just be sure you find out if there are any foods the patient needs to avoid or has developed an aversion to during cancer treatment.
Take him or her out for a walk or dinner if he/she is allowed to. It's really relaxing for both caregiver and the patient. Make it regular if possible.
Last but not least, stay positive, negativity can be contagious, if someone around you becomes upset, you will be in same mind out of blue. Positive attitude also can help yield good efficacy.
6. Words for all Patients and Their Family
Don't ever give up, have confidence in the hospital, in the doctor and also in yourself. As long as you pray with all your heart, take doctor's advice religiously and follow a special diet, you'll make it.