Ovarian cancer anti-warrior: Smile brings good fortune
On Nov. 2, 2017, Malaysian ovarian cancer anti-warrior Yao Caifeng's story was published on Oriental Daily News Malaysia in the page of Anti-Warrior.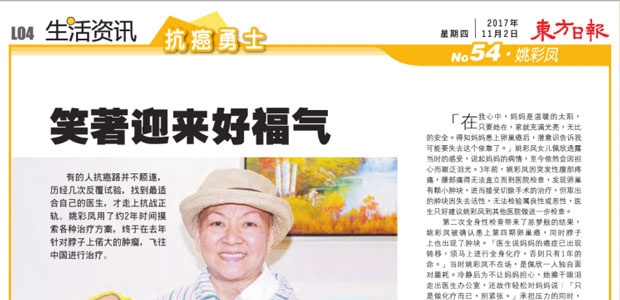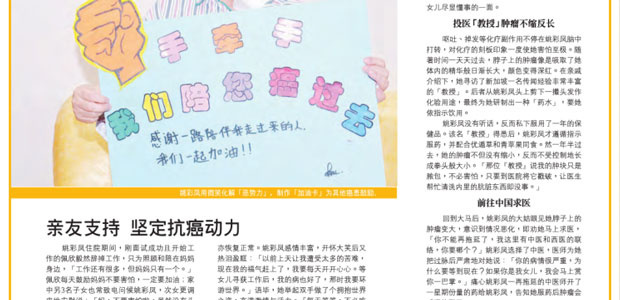 Road to fight against cancer is not always smooth for some people, it takes time and repeated trials to meet their doctors and find the most suitable treatment. Yao Caifeng has spent over two years in seeking all kinds of treatment and last year she flew to China for minimally invasive treatment and finally got her big tumor in her neck effectively treated.
Four years ago, Yao Caifeng went to hospital due to sudden serious stomach pain. After check-up, doctor discovered a tumor in her ovary and suggested surgery to remove it. However, metastasis happened to her after surgery, tumor has spread to her lymph and a small mass was also detected in her left neck. Local doctor predicted a year left for her to live and advised her to do chemotherapy at once. She refused it for she was afraid of the side effects.
Afterwards Yao Caifeng turned to folk remedies, which only caused her condition worse. She was helpless when her neck tumor began to bleed. Thanks to the help of her family, who happened to know St. Stamford Modern Cancer Hospital Guangzhou through Internet, accompanied by her family, Yao Caifeng went to Kuala Lumpur office for consultation and she finally flew to St. Stamford Modern Cancer Hospital Guangzhou for treatment.
In May 2016, Yao Caifeng was admitted into St. Stamford Modern Cancer Hospital Guangzhou. On her admission, she could hardly say out a word since her left neck tumor has pressed on her nerves. Based on her condition, Multidisciplinary Team (MDT) of St. Stamford Modern Cancer Hospital Guangzhou promptly tailored her a set of options: cryotherapy, interventional therapy and tatural therapy.
After cryotherapy, intervetional therapy and tatural therapy, Yao Caifeng can speak normally, and which surprised her a lot was her tumor has shrank by third fourth. She said brightly, "I have spent two and a half year in treating my cancer however my tumor enlarged to a bigger one, while I stayed here for two months and my tumor shrank significantly. It is amazing!"
In the battle of cancer, Yao Caifeng was grateful for medical staff in St. Stamford Modern Cancer Hospital Guangzhou who took good care of her and support and encouragement from her families and friends. "My four kids and my friends often encouraged me to be brave and not to give up, I should cheer up, for them and for myself."said Yao Caifeng.