Rawatan Kanser Paru-paru
Kanser paru-paru ialah salah satu kanser malignan menyebabkan kerosakan paling teruk di dunia, jadi kanser paru-paru boleh dirawat? Pakar berkata, walaupun kanser adalah penyakit sukar antarabangsa, secara klinikal terdapat banyak pilihan rawatan untuk kanser paru-paru. Bagi pesakit dengan kanser paru-paru pertengahan dan lanjutan, prognosis mereka terutamanya bergantung kepada sama ada kaedah rawatan yang betul dan keadaan fizikal pesakit. Rawatan untuk kanser paru-paru pertengahan dan lanjutan termasuklah kemoterapi , radioterapi dan perubatan tradisional Cina, jadi bagaimana untuk memilih rawatan yang paling sesuai untuk pesakit?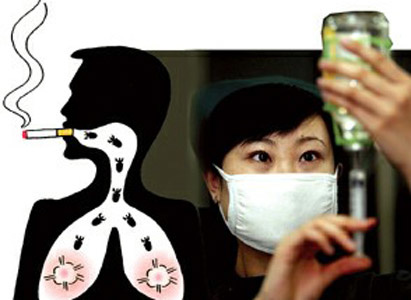 Rawatan Kanser Paru-paru
Rawatan untuk kanser paru-paru kebanyakannya pembedahan, pilihan rawatan lain seperti radioterapi, kemoterapi, perubatan tradisional Cina, dan lain-lain.
Pembedahan
Pembedahan digunakan untuk membuang tumor, termasuk reseksi radikal dan reseksi paliatif. Akan tetapi hanya pesakit kanser awal dan pertengahan paru-paru boleh menggunakan reseksi radikal, yang hanya berjumlah 40% daripada jumlah pesakit dengan kanser paru-paru.
Pada masa kini, pembedahan masih salah satu pilihan utama untuk rawatan kanser paru-paru. Tanda dan jenis pembedahan ditentukan mengikut lokasi, kawasan yang terlibat tumor dan keadaan pesakit umum terutamanya terlibat fungsi kardiopulmonari. Prinsip pembedahan adalah untuk menghapuskan lesi sepenuhnya dan memelihara tisu paru-paru yang sihat secara maksimum.
Terapi Radiasi:
Radiation therapy includes irradiation in cavity and irradiation in vitro. The devices include radium, X-ray machine, cobalt bomb, accelerator which are mostly used and post-installed machine, "photon knife" which are developed in recent years. Terapi radiasi termasuk penyinaran dalam rongga dan sinaran in vitro. Peranti termasuk radium, mesin X-ray, bom kobalt, pemecut yang kebanyakannya digunakan dan mesin selepas dipasang, "pisau foton" yang dibangunkan pada tahun-tahun kebelakangan ini.
Radioterapi boleh juga digunakan sebagai terapi tambahan sebelum dan selepas pembedahan bagi meningkatkan kadar resection dan kadar kelangsungan hidup jangka panjang selepas pembedahan. Selain itu, radioterapi juga digunakan untuk karsinoma sel skuamus yang tidak dapat dirawat melalui pembedahan atau pengulangan dan metastatik.
Radioterapi boleh dibahagikan kepada radioterapi mudah dan radioterapi menyeluruh. Radioterapi mudah terdiri daripada radioterapi radikal dan radioterapi paliatif. Pemilihan jenis radioterapi harus mengikut jenis patologi, tahap dan keadaan metastatik kanser paru-paru, fungsi paru-paru dan keadaan sistemik. Radioterapi menyeluruh menggabungkan radioterapi dengan pembedahan dan kemoterapi, yang mempunyai kadar kelangsungan hidup yang lebih tinggi daripada mana-mana rawatan tunggal lain.
Rawatan Kanser Paru-paru Lanjutan
Bagi pesakit dengan kanser paru-paru lanjutan, pembedahan perlu dicubakan untuk membuang kanser primer dan nodus limfa metastatik, ditambah dengan radioterapi dan kemoterapi dan kaedah rawatan kanser paru-paru yang lain.