Persistence Made Hopes*
– Interventional Therapy and Cryotherapy for Liver Cancer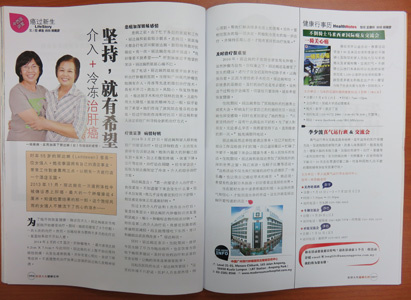 In July, 2015, Malaysia Long Life reported an anticancer story of the Thai liver cancer patient Laddawan. After Laddawan got treatment in Modern Cancer Hospital Guangzhou, her 9cm tumor shrank immediately, and her condition became better.
Laddawan who is 55 years old comes from Thailand. In November, 2013, she was diagnosed with liver cancer in the local hospital. At that time, the biggest tumor was nearly 4cm. She was a successful businesswoman running her own hotel. This sudden news made this strong woman cry sadly.
And then, Laddawan took 6 sessions of chemotherapy in the local hospital, but her tumor still grew and increased. Her sister worried about her and began to find other suitable treatment. On hearing Modern Cancer Hospital Guangzhou, they saw hope. Modern Cancer Hospital Guangzhou is specialized in minimally invasive therapy for cancer treatment with advantages of fewer traumas, fewer side effects, less pain, etc. And they went to Bangkok office of the hospital for consultation. After consideration, they decided to go to Modern Cancer Hospital Guangzhou.
On March 27, Laddawan and her family arrived at Guangzhou. Through medical inspection, she was told that her biggest tumor grew to 9cm. With intense pain on her right abdomen and enlargement of the tumor, it was extremely urgent for her to receive treatment. The MDT (Multidisciplinary team) of Modern Cancer Hospital Guangzhou made a medical plan of interventional therapy and cryotherapy for her. After 2 sessions of interventional therapy and one session of cryotherapy, her tumors shrank and reduced obviously, and the pain on her right abdomen was reduced, and her appetite and sleep got improvement.
In terms of the hospital life, Laddawan said, "The hospital environment is very comfortable, the nurses and doctors here are nice. Activities like pearl river night cruise, cooking competition, etc, are often held in the hospital, making a joyful environment for us."
Besides, Long Life also reported her experience of hysterectomy operation. In 2010, there was a benign tumor on her cervix of womb. The local doctor suggested her take hysterectomy for curing. After consideration, she agreed to take the surgery. This experience made her believe that once being ill, it was important to get treatment immediately. Although it was painful during this process, persistence could make hopes. That was how she faced to cancer too.
When you were confronted with sufferings, you must keep persistence which could make hopes. That was the experience what Laddawan taught us.