Interventional Therapy gives colorectal cancer patient a new lease of life!*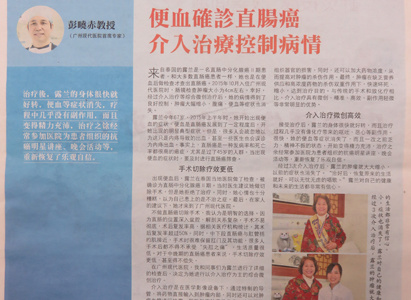 On March 18th, 2016, Malaysia Guang Ming Daily published a special report about Thai colorectal cancer patient Lulan, whose tumor shrank and discomforts disappeared after taking interventional therapy in Modern Cancer Hospital Guangzhou.
Lulan is 67 years now; she has had blood in her stool since the early of 2015. Unfortunately, she was diagnosed with colorectal cancer after having examinations in a local hospital. Doctors there suggested her to take resection operation, but she refused. Later, under her family's suggestion, she came to Modern Cancer Hospital Guangzhou for treatment.
Professor Peng Xiaochi, oncologist of Modern Cancer Hospital Guangzhou said that it was wise for Lulan to refuse operation. Resection operation is of poor thoroughness and high risk of recurrence because of the complicate location of colon. According to some medical researchs, the recurrence rate of resection operation is up to 50%. Besides, the middle and lower parts of colon is so close to the anal sphincter that it is hard to remain anus and its function when taking operation. Most patients after operation are of poor living quality because they have to undergo the suffering of losing their anus. Thus, for middle or advanced stage cancer patient, operation is of poor efficacy, sometimes it even brings more side effects.
After taking a series of examinations in Modern Cancer Hospital Guangzhou, the Multidisciplinary Team specially made Lulan a comprehensive treatment plan based on interventional therapy. After taking treatment here, Lulan's condition turned better soon without suffering side effects like vomiting, nausea, etc. Her symptoms of hematochezia, exhaustion disappeared. She is energetic now and regains her confidence and optimism; she often takes part in the anticancer lectures, evening party and other activities held by Modern Cancer Hospital Guangzhou.
Lulan's tumor greatly shrank and discomforts disappeared after taking three session of interventional therapy. Lulan is confident in her future life, she told us happily: "I will get back to my life after recovery and I will sing lightheartedly."