Fight against Cancer Positively, Never Give Up*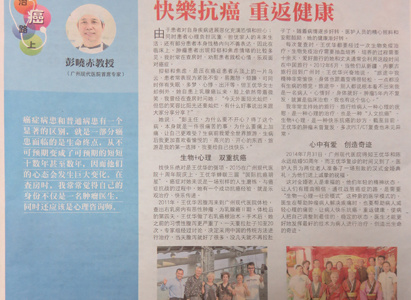 On December 2nd , 2015, Malaysia Guang Ming Daily published a special report about Modern Cancer Hospital Guangzhou. Taking the anticancer experience of breast cancer patient Indahwati Jutiami as example, Professor Peng emphasized the importance of optimism when fighting against cancer.
Professor Peng explained that it is easy for cancer patients to feel depressed and anxious due to their worry and fear of cancer. Main symptoms include tension, irritability, dysphoria, along with insomnia, dreaminess, palpitation, sweating, etc.
However, Indahwati Jutiami is one exception. She keeps her smile though she knows that she got cancer. Professor Peng asked Indahwati Jutiami when making the round of the wards: "Although outside the sun is shining brightly, your smile is much brighter. Is there anything good? Could you please share with us?" Indahwati Jutiami answered simply: "Although having cancer is painful, I still try my best to feel happy. I want myself be happy. No matter I am healthy or sick, travel is always my first choice, because I love travel, travel makes me happy."
Indahwati Jutiami has been honored as the "International Anticancer Star" of Modern Cancer Hospital Guangzhou for three times. For Indahwati Jutiami, cancer is more like a trial, she has successful anticancer experience, that is to take treatments positively and spreads happiness. Indahwati Jutiami traveled China in 2011, and came to Modern Cancer Hospital Guangzhou for examinations due to diarrhea. Unexpectedly, she was diagnosed with breast cancer. After taking radical mastectomy four days later, her condition gradually turned better. Every time she came back to Modern Cancer Hospital Guangzhou to have examinations, she took natural therapy to improve her immunity. The whole procedure of natural therapy needs dozens of days, because it requires blood culture, Indahwati Jutiami and her husband generally travel around China during this time. In June 2015, when they came back from Sinkiang and Inner Mongolia, Indahwati Jutiami said excitedly: "I feel happy and relax when traveling around. I do not consider myself as a cancer patient; other even do not believe that I am a breast cancer patient. A good mood brings benefits to the body. 5 years passed, there is still no recurrence. I have the confidence that I have been cured clinically."
Professor Peng always supports Indahwati Jutiami in travel, because he believes that travel brings people comfort, it is more like a kind of psychotherapy. So far, there is still no recurrence of her breast cancer. Professor Peng pointed out doctors should not only help patients relieve their condition, but help them relieve their mental stress. Only when patients with a good and stable condition, can doctors give them better treatments with the advanced technologies.