Don't be Afraid of Prostate Cancer*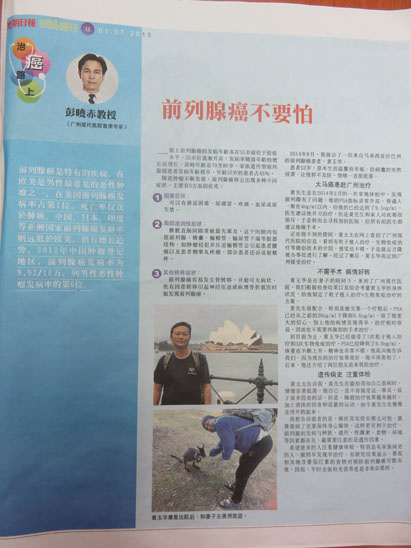 On July 1, 2015, Malaysian Guang Ming Daily reported a case of a prostate cancer patient WONG NYUK FAH who took therapy in Modern Cancer Hospital Guangzhou and got better. The report also introduced some knowledge related to prostate cancer.
WONG NYUK FAH who was 52 years old came from Sabah, Malaysia. In February 2014, a routine physical check led to his discovery of prostate cancer. At that time, the PSA index (Prostate Special Antigen index) reached to 9.5ng/ml, which exceeded the normal range of less than 4ng/ml. Although seeking treatments from different places, he got the same advice of taking surgical resection that he and his families disagreed with. When he had no ideas about how to do, his wife happened to know about minimally invasive therapy for cancer in Modern Cancer Hospital Guangzhou from internet. And then they went to Kuala Lumpur office of the hospital for consultation. After that, they decided to go to Modern Cancer Hospital for treatment.
In Modern Cancer Hospital Guangzhou, professional MDT made a therapeutic regimen of 125I seed implantation and natural therapy for WONG NYUK FAH. He cooperated with the treatment, and took 125I seed implantation once and natural therapy three times. As a result, his PSA index dropped to 0.0ng/ml, which meant a good therapeutic effect. He became happy and cheerful; his condition was greatly improved. At present, he had left the hospital.
In the report, Peng Xiaochi, a chief expert of Modern Cancer Hospital Guangzhou, introduced some knowledge related to prostate cancer. He said that there were many risk factors causing prostate cancer, including race, gene, sex hormone, food, and environment etc. The incidence of prostate was low before 55 years old, and increased gradually after 55 years old. What's more, the peak level of incidence was at the age from 70 to 80. In particular, those patients who inherited prostate cancer genes were at the early age. There were three aspects of symptoms including obstruction symptoms, local invasive symptoms, and metastatic symptoms. Obstruction symptoms included dysuria, urinary retention, painful urination, hematuresis, urinary incontinence, and so on. Local invasive symptoms referred to the symptoms that caused by involvement of the bladder rectum gap; for example, lumbago, bilateral testis pain, ejaculation pain caused by the tumor invasion and compression to the spermaduct. Metastatic symptoms meant the bone metastasis caused by prostate cancer. Besides, in the aspect of prevention, Dr. Peng pointed out that tomato and lycopene were helpful to prevent prostate cancer.
At last, Dr. Peng warmed that, for early diagnosis and early treatment, it was necessary to take physical checks regularly, especially for those who had a family history.