Dragon Boat Festival Celebration ---- An Insight into Cantonese Dragon Boat Culture
Eating sticky rice dumplings and watching dragon boat racing are undoubtedly the deepest memories of the Dragon Boat Festival! As a non-material cultural heritage project in Guangzhou, the Chebei Dragon Boat Racing is the best interpretation of the Dragon Boat Festival and the largest annual dragon boat folk-custom event in Guangzhou. On June 16, 2018 International Dragon Boat Festival started in this historic village. Staff in St. Stamford Modern Cancer Hospital Guangzhou organized cancer patients from Indonesia, Malaysia, Thailand, Vietnam and the Philippines to watch the grand Cantonese dragon boat racing and experience the century-long Cantonese dragon boat culture.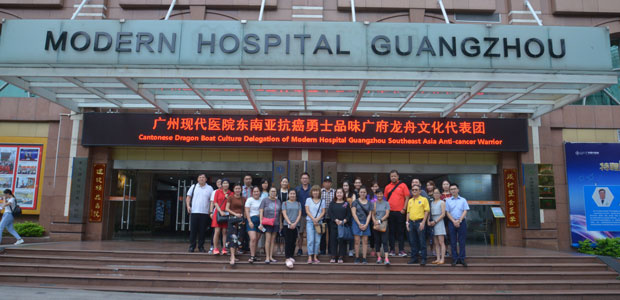 Medical staff and overseas cancer patients and their families before the trip
In order to get more foreign cancer patients involved in the activity, to have a better understanding and a deeper impression on the Cantonese Dragon Boat culture, a Dragon Boat Festival Photography contest was organized to encourage more people to capture those meaningful, beautiful and memorable shots with their cameras or mobile phone.
On Dragon Boat Race scene, patients tries to capture the shots with their mobile phone
Together with the cancer patients, Mr. Tu Xiaoming, general manager of the hospital, went to the scene. He remarked, "We provide medical tourism service since 2005 when our hospital was established. It has been more than ten years. We attached great importance to patients' psychotherapy and physical therapy, not only providing cancer patients with advanced minimally invasive treatments, but also offering more than 60 items including medical tourism, which has earned affirmation and appreciation of patients from all countries. In the future, we will also promote the traditional Chinese culture while enriching the cultural life of patients, so that more overseas patients can understand Chinese culture."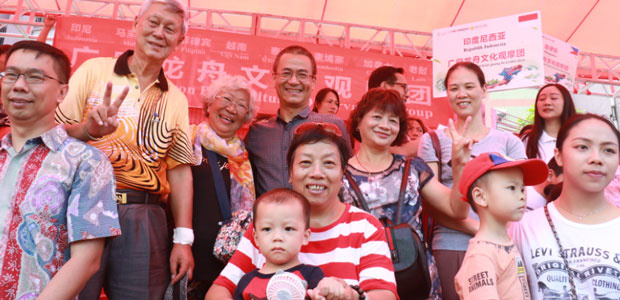 General Manager of the hospital Mr. Tu Xiaoming and cancer patients on the scene
On considering of safety and comfort, medical staff specially strived for a more comfortable and dedicated viewing area for patients, which was supported and well arranged by the Dragon Boat Culture Festival Organizing Committee and Chebei Street Administration.
After the race, a dragon boat meal was deliberately arranged to serve patients and their families, they are able to taste the distinctive Guangzhou cuisine with local residents. The distinctive Guangzhou cuisine and Cantonese hospitality left them great impression and they spoke highly of it.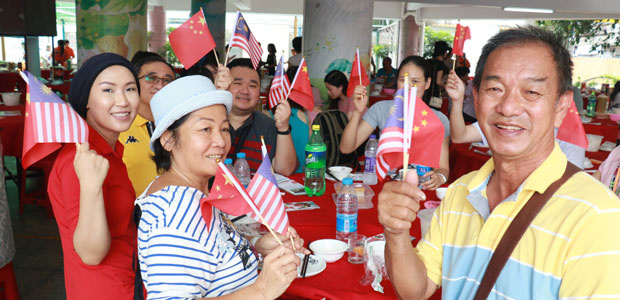 Dragon Boat Rice sharing
Indahwati Iwan, an Indonesian breast cancer patient noted, "This is not my first Dragon Boat Festival here, but I am still infected and touched by this intense festive atmosphere. I had breast cancer in 2011 and I underwent treatment here. Every year I came back for checkup and I was lucky enough to run into a Chinese holiday. It surprised me every time. I am very glad that I have come across this year's Dragon Boat Festival and I can watch the dragon boat race with my family and taste the dragon boat rice that I could not eat on weekdays. This is another new experience in my life. Today is also Indonesia's New Year - Eid al-Fitr. I am really happy. I have to take more pictures to participate in your photography competition, and I will bring them back to my home and show them to my relatives and friends, to let them know the beauty and profound culture of China's ancient villages."