Lung Cancer Patient's Golden Wedding Ceremony
On Oct. 9, 2016, a grand golden wedding ceremony was held at Royal Krakatau Hotel, Jakarta, Indonesia. In the following photo, Phua Thin Kui who just finished treatments from St. Stamford Modern Cancer Hospital Guangzhou was standing on the stage with his wife Zhang Yingyou. Under the stage, more than 300 participants, who were the couple's friends and relatives, showed best wishes to them and witnessed their happiness.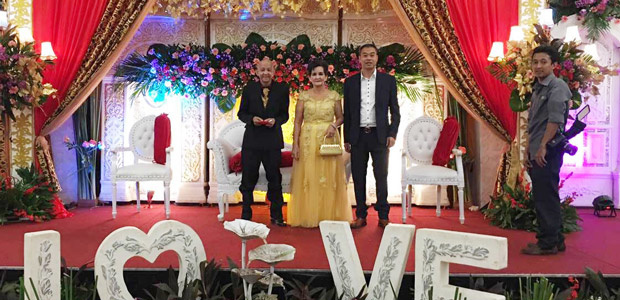 At the scene of the ceremony
Love Began from Charcoal
In the middle of 20th century, it was almost an age without electricity in Indonesia. Daily life all counted on charcoal. Many businessmen caught this chance to start Charcoal business. So did Phua Thin Kui and Zhang Yingyou. Both families ran charcoal business. In 1966, Zhang Yingyou was a beautiful young lady at the age of 19. She often came to Phua Thin Kui's store to stock charcoal for her shop, which impressed Phua's father deeply. Phua's father thought Zhang was not only beautiful but also diligent, who was very suitable to become his daughter-in-law. Subsequently, Phua's father took Phua to Zhang's home to propose marriage. Under the consideration that Phua was a good man, Zhang's parents agreed with this proposal. And then they got married soon. This couple got along well with each other. Zhang Yingyou said, "He quarrels with me occasionally, but I will not fight with him because if I fight back, this quarrel will not stop."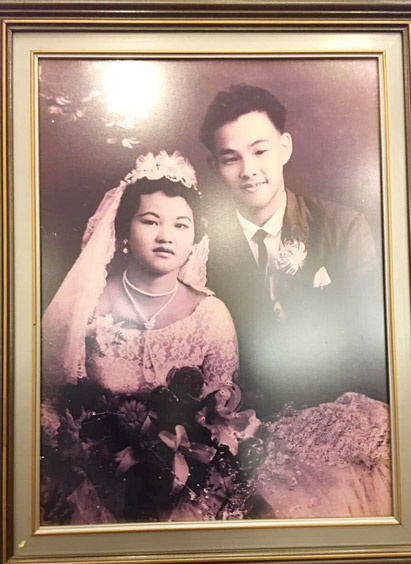 Wedding photo of the young couple
Cancer Came Unexpectedly
Many decades passed, Phua Thin Kui and Zhang Yingyou enjoyed their retirement and comfortable life. Unfortunately, a bad news interrupted it. Since 2015, Phua Thin Kui had a bad cough for 10 month without remission. After check up, a tumor with size of 10*6cm was found in his right lung, and it was lung cancer. Phua Thin Kui worried a lot about it. His wife explained, "In Indonesia, cancer is very horrible. Everyone thinks it is a terminal disease." Indonesian doctor advised Phua Thin Kui to take surgery, but he refused it. A week later, Phua Thin Kui's daughter in law knew about St. Stamford Modern Cancer Hospital Guangzhou from the Internet, and suggested him take nonsurgical treatment at this hospital. And then, they went to Jakarta office of the hospital to get guidance and decided to take treatment there. After the preparation, Phua Thin Kui arrived at St. Stamford Modern Cancer Hospital Guangzhou.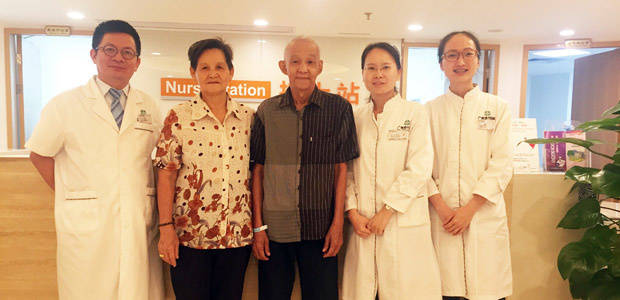 The couple and doctors from St. Stamford MCHG
Lung Tumor Disappeared Mostly
On June 28, 2016, Phua Thin Kui received interventional therapy which was performed successfully with no obvious side effects. Besides, he also took cryotherapy which is applicable to various solid tumors. Before taking cryotherapy, Dr. Lin Jing explained the risks of cryotherapy, which made Phua Thin Kui nervous. But Dr. Lin also said, "At our hospital, we perform this therapy for 5-6 times every day. Our specialists are very experienced, so these complications are rare to come out", making them reassured. After comprehensive treatment for 3 months, Phua Thin Kui's tumor has disappeared mostly and he has got improvement.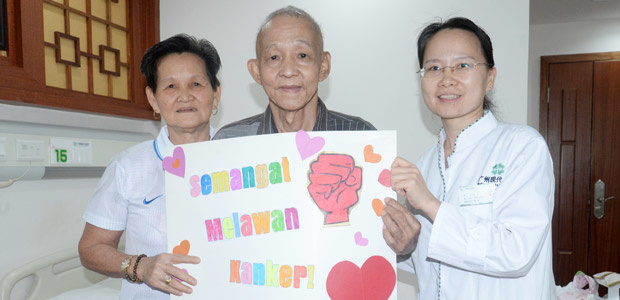 The couple and Dr. Lin Jing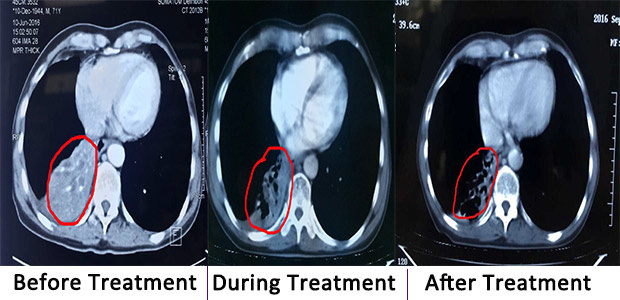 Celebrating 50th Wedding Anniversary
On Oct. 9, 2016, it was their 50th wedding anniversary. This couple not only invited their families and friends, but also staff from Jakarta office of St. Stamford Modern Cancer Hospital Guangzhou. In their ceremony, Zhang Yingyou represented, "We are very grateful for St. Stamford Modern Cancer Hospital Guangzhou where we have gained great treatment confidence. Without the medical team, we will not stand here to celebrate our golden wedding anniversary." As for the following plan, Zhang Yingyou who loved travelling said, "I hope my husband can defeat cancer completely so that we can continue to travel around the world."