Cooperation of Medical Industry between China and Philippines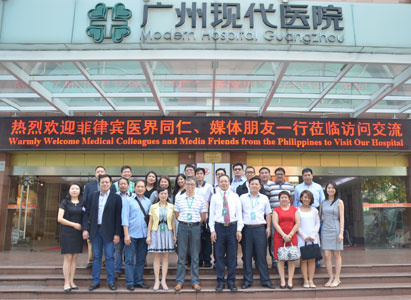 Doctors and Media Team from the Philippines visited MCHG
  On July 9th, doctors and media team from the Philippines visited St. Stamford Modern Cancer Hospital Guangzhou. The president, Wang Huaizhong, vice-president, Chen Bing and director of nursing department, He Liangqiong, expressed warm welcome to them.
  President Wang first introduced the current condition that our hospital develops at the Philippines and pointed out that MCHG has a great influence in the Philippines since the Manila branch office has set up in 2011. MCHG brings advanced cancer technologies and new treatment concept to the local people through the makati office which bring new hope to more cancer patients.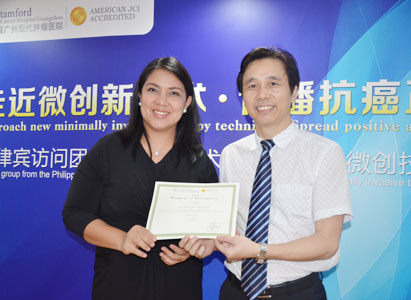 President Wang also claimed that in order to promote the relationship between China and the Philippines, we will promote further exchange and cooperation . On behalf of MCHG, it is our pleasure to share and exchange the cutting-edge cancer technologies with the Philippines doctors.
  The visiting team also had a better understand of the development, specialized service, ward environment, treatment technologies, etc. The chairman of the Philippines Doctor Associate, LEONORM, also claimed that he had a strong interest on the minimally invasive technologies at MCHG, which can make up the damages caused by traditional surgery, chemotherapy and radiotherapy. For now, there is no such cancer technologies in the Philippines and he would like to share this advanced cancer treatment to more than 650 doctors at his hospital.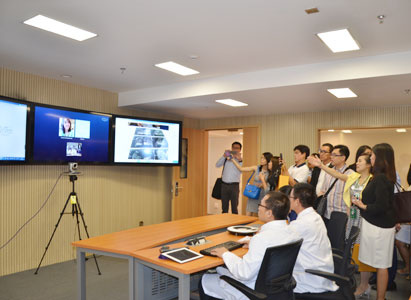 It is reported MCHG has been set up for 11 years which always pay attention to the medical quality. In 2014, MCGH was accredited by American JCI; in 2015, it built a cooperation relationship with Singapore University; in 2016, it reached a cooperation intention with American Mayo Clinic and Singapore Cancer Center. MCHG is closely be in line with the international cutting-edge patients' service system and guarantee to put the priority on patient's need to provide the most satisfying medical service.