China's first joint venture with Singapore JCI accredited hospital officially founded
Today, cross-border medical care is becoming more ubiquitous. Patients who go abroad to enjoy high-quality medical services has become a new trend. In July 3, 2016, Guangzhou ushered in the country's first joint venture with Singapore: a JCI accredited hospital, St. Stamford Modern Cancer Hospital Guangzhou (formerly known as Modern Cancer Hospital Guangzhou). It is the first medical project of the Singapore Stamford International Medical Group (founded by Singapore Perennial Land Group). The hospital boasts its high international standard of medical technologies, advanced facilities and quality services, providing its patients both locally and abroad with international standard of medical service.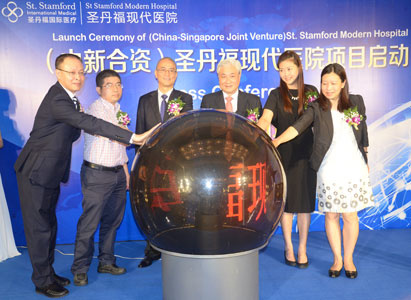 Foreign investors recognized China's high-quality "private hospital"
Established the first China-Singapore joint venture International Hospital
In the morning of July 3, St. Stamford Modern Cancer Hospital Guangzhou project was officially launched. A press conference was held at Sofitel Guangzhou Sunrich, where the Singapore Vice Consul (Commercial) in Guangzhou and Singapore International Trade Development in Southern China Guangzhou branch office director, Ms. Oh Lay Yen, United States Consulate General in Guangzhou (Commercial) director Ms. Han Lu, British Consulate General in Guangzhou (Health) Ms. Peng Yi, National Cancer Center Singapore Dean, Professor Soo Khee Chee, and other distinguished guests were present in this event.
St. Stamford International Medical Group Director, representative of Singapore Perennial Group, Mr. Huang Rongkang, announced at the press conference, "St. Stamford Modern Cancer Hospital Guangzhou is our first investment enterprise, which is a very prestigious hospital in Guangzhou known for its comprehensive treatment in cancer. After years of efforts, St. Stamford Modern Cancer Hospital Guangzhou received JCI certification in October 2014, and has become the partner-practicum base of Southern Medical University and Guangdong Pharmaceutical University. The hospital's professional reputation at home and abroad continues to flourish. "
St. Stamford Modern Cancer Hospital Guangzhou predecessor, Modern Cancer Hospital Guangzhou, although is a private hospital, it attaches great importance in the enhancement of the management of the hospital, which can get be seen from its hospital management systems. From the US JCI hospital management system certification, ISO quality management system, Singapore quality grade checks, Singapore service levels, and others, it can be said that in different angles, the overall management systems are of the best quality and continuously being updated. The hospital also established contact with world-renowned hospitals, such as the National University Hospital of Singapore, the Chinese Red Cross General Hospital - Shanghai Huashan Hospital, and others. These hospital peer-learning experiences on a more open management and practice, fuels the rapid development of St. Stamford Modern Cancer Hospital Guangzhou.
In addition, Mr. Huang Rongkang said: "In China, the market demand for comprehensive cancer therapy is steadily increasing. In the recent years, patients from the Southeast Asia, Middle East and Africa coming to St. Stamford Modern Cancer Hospital Guangzhou has significantly increased. The Group plans to integrate with Singapore and other international medical groups with cutting-edge medical resources, to set St. Stamford Modern Cancer Hospital Guangzhou as an excellent platform to establish partnerships with international medical and research institutions, to create numerous health programs. "
Singapore Perennial Group's investment in St. Stamford Modern Cancer Hospital Guangzhou is not only in terms of financial support, but also as a partner to bring Singapore's advanced medical technology, medical quality and medical resources to St. Stamford Modern Cancer Hospital Guangzhou.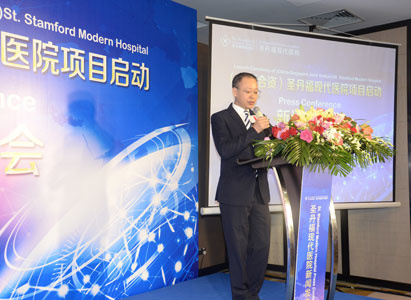 Incorporating Singapore hospital's operation management bringing patients a new model of high-end services
Singapore has been providing its citizens with high-quality, multi-level medical services attracting nearly 1 million foreign patients to go to Singapore for treatment each year. Many international organizations and medical institutions have chosen to set up their regional or international headquarters in Singapore, thus Singapore always stays at the forefront in Asia for world-class level of medical services. Thus, in this cooperation with the Singapore Perennial group, St. Stamford Modern Cancer Hospital Guangzhou has adopted new models of management and operations of Singapore hospitals.
St. Stamford Modern Cancer Hospital Guangzhou Service Director, Dr. Lin Taijie expressed that from the health care system of Singapore to the Singaporean hospital medical organization model, hospital bed management, quality improvement and patient experience management, the hospital's 6S management, clinical supervision and quality as well as aspects of security management, hospital care and leadership, St. Stamford Modern Cancer Hospital Guangzhou adopted all of them. For the hospital, the patient is not only a sick person seeking treatment, but more importantly, he is our customer. Therefore, the 24-hour full-service for patients was deliberately created with a home-like atmosphere, adhering to the concept of always looking after the welfare of the patients. These all reflect the new high-end services:
The bathroom in each ward at St. Stamford Modern Cancer Hospital Guangzhou is equipped with shower seats and grabs bars for fall prevention. Each ward has intelligent visual call system, once someone presses the call button, the nurse station will immediately receive the signal. Each ward is designed with hotel standard, utilizing the space in the best way to increase patients' comfort during their stay. The wards are also well-equipped and the design reflects a warm atmosphere so that patients can feel at home during their stay. The highlights of the ward is the concept of family. After the renovation, each doorway area is equipped with disposable medical supplies, so the doctors and nurses can readily access disposable face masks, gloves and other supplies.
To build a harmonious hospital, we should put people-oriented concept throughout the whole process of health care, by providing humane medical services to patients and maintain a harmonious working environment, health and order. "Cure me, do not hurt me more and treat me a little nicer." This is the Singapore hospital service creed, which is now being adopted at St. Stamford Modern Cancer Hospital Guangzhou. For all current staffs of St. Stamford Modern Cancer Hospital Guangzhou, the quality of medical care is also a basic necessity of patients.
Clinical application of Nano-knife: Future of clinical targeted individualized treatment
At the press conference, St. Stamford Modern Cancer Hospital Guangzhou was successfully listed as an establishment that performs Nano-knife in clinical practice. Precise medical treatment is one of today's hottest areas of research in the medical community and has become one of the main themes of this press conference.
In recent years, a subversion of the traditional hot or cold ablation has emerged –Nano-knife ablation (irreversible electroporation) technology, to bring new hope to patients with advanced pancreatic and biliary tract cancer. In October 2011, the Nano- knife ablation technique obtained its approval by the US Food and Drug Administration (FDA) approval and the European Union CE certification for clinical treatment, since then more than 100 large hospitals has started using Nano-knife ablation technique. In July 2015, Chinese Food and Drug Administration (CFDA) approved its application for the treatment of malignant solid tumors.
It is understood that having world-class hospital practice, learning the forefront concepts in medical service, and introducing the most advanced medical technology are the goals of St. Stamford Modern Cancer Hospital Guangzhou. Therefore, St. Stamford Modern Cancer Hospital Guangzhou followed the latest international cancer treatment technology, combined with the advantages of a team of cancer specialist from oncology, surgery, interventional imaging, anesthesiology and other multi-disciplinary team of experts successful completed its first Nano-knife pancreatic cancer ablation under CT guidance on June 4, 2016.
The case being addressed in this procedure is an Indonesian patient suffering from pancreatic cancer a.k.a "King of cancer". Patient Lixing De (a pseudonym) suffered from abdominal distension and abdominal pain. He was later diagnosed with pancreatic cancer III, with tumor size of about 4.5 × 4cm. After deliberations with the team of experts, they agreed to employ Nano-knife pancreatic cancer ablation. After the procedure the patient is in good health, without any complications, and he can already walk after 72 hours. Dr. Bai Haishan said in recent years, the clinical practice of nano-knife ablation has given advanced pancreatic cancer patients who are unresectable the opportunity to have treatment bringing them more hope.
As an authoritative JCI accredited international hospital, St. Stamford Modern Cancer Hospital Guangzhou has 18 minimally invasive treatment technologies, a breakthrough on the traditional surgery, radiotherapy and chemotherapy which brings great trauma to the patients. With the limitations which arises in the current treatment of tumors close to hepatic hilar regions, gallbladder, bile ducts, pancreas, and ureter, St. Stamford Modern Cancer Hospital Guangzhou Cancer Center focuses on individualized precise treatment, and the introduction of the latest and most advanced nano-knife treatment surgery, will fill the gap in this area, making the hospital's treatment techniques continues to remain at the top end of the international standard providing more cancer patients with high-tech treatment technology.