Delegation of Mayo Clinic Visited Modern Cancer Hospital Guangzhou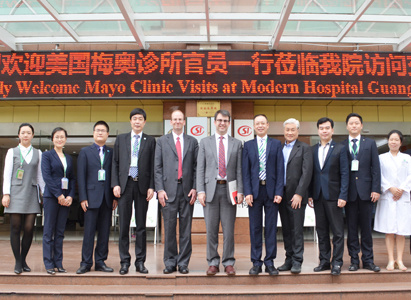 Exchange Medical Management Experience, Help Boost More Internationalization of MCHG
On Apr. 7, delegates of Mayo Clinic (the top medical center in the US), the Chief Operating Officer Mr. Joseph Luther Fulton and Mr. John Barton Osborn, visited Modern Cancer Hospital Guangzhou. Both sides introduced hospital development briefly and exchanged management experience to each other, and indicated to strengthen mutual cooperation, which help boost more internationalization of Modern Cancer Hospital Guangzhou (MCHG).
General Manager Lin Shaohua, President Wang Huaizhong and other leaders of MCHG received the guests. Besides, Chief Medical Director of Boai Medical Group Mr. Lin Daoxuan and Managing Director of Singapore Perennial Group Mr. Huang Rongkang also accompanied with the delegation.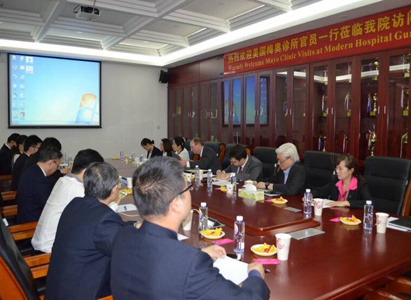 General Manager Lin Shaohua gave a welcome speech to the delegation and introduced the basic information of MCHG and the achievements in recent years. Director Yang Jinna introduced the specialist team, achievements in scientific research, cancer treatment technologies, and development program in the next 3 years, etc. And then Director Yang Gang showed the achievements of hospital quality management. The delegation of Mayo expressed, "Modern Cancer Hospital Guangzhou has been in line with international Healthcare with good medical services. We hope that we can have further medical exchange and cooperation."
Subsequently, Mr. Joseph Luther Fulton gave presentation of the basic information of Mayo Clinic in detail. Mayo Clinic was established in 1864. At present, it has been developed for more than 150 years, and has become the prestigious comprehensive medical center in the US and even around the world. Its globalized medical network system shares medical techniques to all the medical organizations around the world.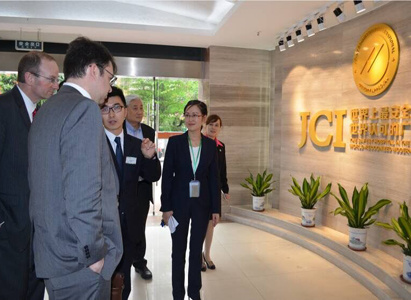 In communication, President Wang Huaizhong introduced that numerous overseas cancer patients flied to MCHG to take treatment as well as tour there, and the hospital provided specially personalized services to those patients. The delegates showed appreciation to this "medical tour" could bring good service experience to patients, beneficial to patient's health. In addition, President Wang also showed that as the hospital accredited by JCI, both sides had something in common, such as the "patient-centered" core value, etc, and for the improvement of international medical service, both two hospitals could strengthen exchange.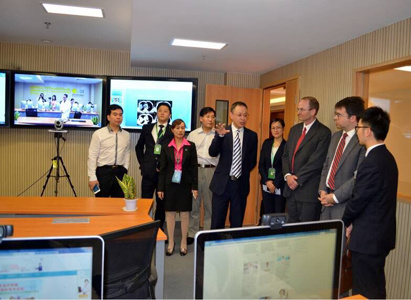 Accompanied by hospital leaders, delegates of Mayo Clinic visited the main building of the hospital. After they saw the medical guidance stations, nurse stations, corridors, beautiful wards and other facilities for patients, they praised and said, "The hospital environment is very nice, and the facilities are also good. Form the patient's message board, we can know your services are very considerate."
As for the hospital quality management, Modern Cancer Hospital Guangzhou has built a mature system. Via establishing quality improvement and patient safety management committee, it helps to ensure patients' safety and to improve medical quality. The quality management, carried out on the basis of international JCI standard, was gained compliment form the delegation. They said, "It is the key to build the whole medical service by good medical quality management. The quality management of Modern Cancer Hospital Guangzhou has attained to international standard."