Warm Christmas at Modern Cancer Hospital Guangzhou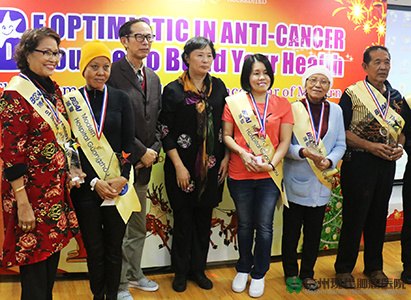 "Anti-cancer Warrior" Took Photos Together
December 23, Modern Cancer Hospital Guangzhou organized a get-together at the ninth meeting room to celebrate with the patients present from different countries, with the yearning of wishing them good health and happiness.
The Christmas party began with modern dancing and incredible singing. Glory colors made the spectacular visual achievement. With the warm applause, president of Modern Cancer Hospital Guangzhou, Wang Huaizhong, delivered a speech to us. On behalf of Modern Cancer Hospital Guangzhou, he sent best wishes to the oversea cancer patients and claimed that Modern Cancer Hospital Guangzhou would fetch more advanced machine and cancer treatment technologies; with the improving medical technique level, the individualized medical care would permeate through and among the patients. Modern Cancer Hospital Guangzhou aims to build up a cozy and comfortable environment and provide effective, safe and reliable medical treatment for all the cancer patients.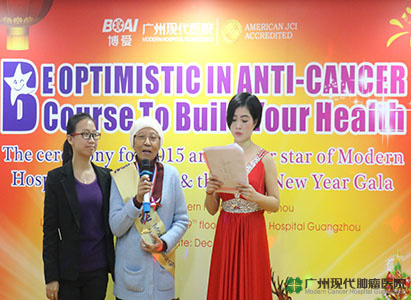 "Anti-cancer Warrior" Koesmintarti Prasanto shared her thoughts to us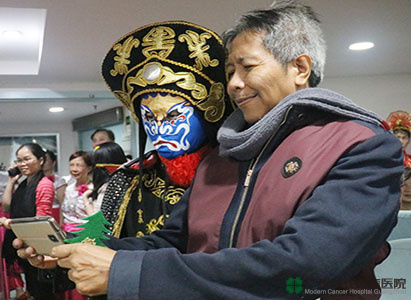 Liver cancer patient took photos with the performer

In 2015, hundreds of cancer patients took minimally invasive therapy in Modern Cancer Hospital Guangzhou and gained good therapeutic effect. In order to strengthen cancer patient's confidence, which helps to regain their health, the "anticancer warrior" award ceremony was held at the Christmas party so that cancer patients can get together, exchange their anticancer experience, show their perseverance and convey warmth and positive energy to others.
Fantastic performances one after another deeply attracted all the audiences, such as interesting Sichuan Opera changing face, humorous magic show, vivid v-box, beautiful songs, etc. Among all the performances, the game of "Hug and hugs" moved atmosphere of the party to the climax. Though patients from different countries cannot communicate with the same language, the intimate activity promoted their communication deeply.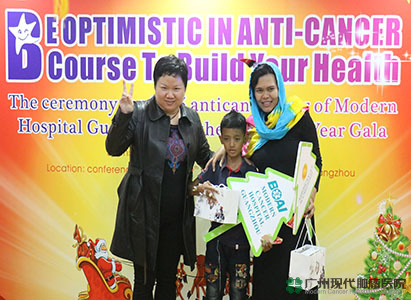 Lucky Little Boy Got the First Prize at Christmas party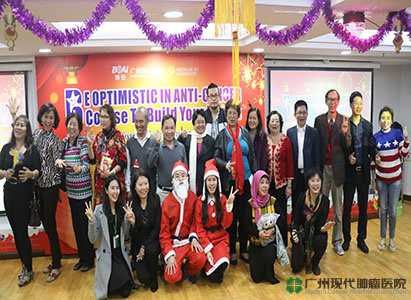 Joint Photo of Patients and Staffs

In the Christmas party, Santa Claus showed at the spot. When Santa Claus pushed against the door and walked into the meeting rooms, patients and their family members were surprised to see him with Christmas gifts in hands. "Merry Christmas. This is a small gift for you. Wish you have a happy new year and recover soon." said Santa Claus sincerely.
The party began with dancing and closed with taking photos together. In the Modern big family, we showed the powerful strength and experience the love and care. Modern Cancer Hospital Guangzhou did and has devoted itself to improve the individualized service system and provide first-class medical service.