A Medical Delegation from Hadanuddin University of Indonesia Visited Modern Cancer Hospital Guangzhou
On September 11, 2015, a medical delegation from Hadanuddin University (UNHAS) of Indonesia visited Modern Cancer Hospital Guangzhou. At 9 a.m., the General Manager Lin Shaohua, President Wang Huaizhong and other leaders warmly received all the guests from UNHAS and arranged a welcome meeting for them.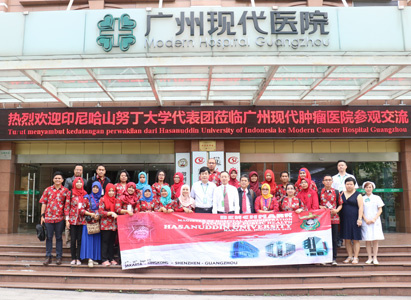 Photo of leaders from MCHG and the delegation from UNHAS
At the beginning of the meeting, the General Manager Lin Shaohua gave a welcoming speech, and then the meeting hostess showed the hospital development, advanced medical technology, and medical achievement to the delegation by photos and videos. Represented the hospital, leaders gave the delegation two gifts including a screen with inscriptions that written by Chairman of China Xi Jinping and an album of the first ASEAN academic forum on minimally invasive therapy for tumor treatment.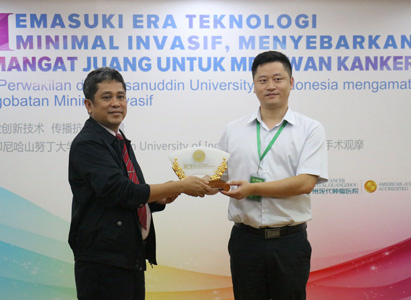 The leader from MCHG gave gift to the delegation.
After the meeting, Director He Liangqiong led the delegation to visit the hospital. In a VIP ward, members of the delegation asked questions in many aspects, especially the differences between the VIP wards and the common wards, the arrangement of hospital admissions, etc. Director He answered their questions patiently, and indicated that no matter what wards patients lived, they all received the same medical service, and all the medical staff in the hospital treated every patient equally, seriously, carefully. As for the only difference between those two kinds of wards, home treatment and nursing was paid more attention in the VIP wards, while the targeted nursing was more emphasized in common wards.
Director He Liangqiong was leading them to visit the hospital.
In order to make the delegation deeply get to know Modern Cancer Hospital, the hospital staff showed them two living broadcast of minimally invasive therapies including interventional therapy and Ar-He cryotherapy. Doctor Zha Huangqi and director Peng Xiaochi introduced these two therapies in the aspects of the principle and operation approaches, etc. They pointed out that minimally invasive therapies have advantages of accurate position, strong repeatability, smaller etc. And then, the delegation had a cordial talk with an Indonesian patient and showed their best wishes for him.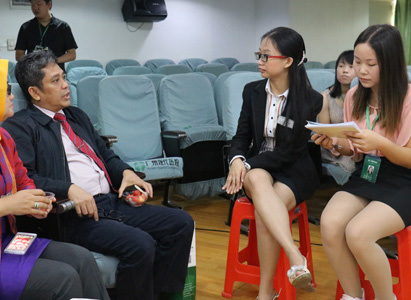 Mr. SYAHRIR ANDI PASINRINGI was being interviewed.
The leader of UNHAS's medical delegation Mr. SYAHRIR ANDI PASINRINGI said, "The medical technology and management in Modern Cancer Hospital Guangzhou are leading in the world. The hospital was accredited by JCI (Joint Commission on Accreditation of Healthcare Organizations) which is the highest medical standard in the world. Indonesia has high incidence of cervical cancer and breast cancer, but at present the Indonesian hospitals do not have minimally invasive therapies to treat cancer, MDT medical mode in Indonesia should be improved. We hope that we can learn more to improve our medical management and promote medical innovation via this visit."
At the end of this visit, the medical delegation from UNHAS took joint photos in front of the JCI image wall in Modern Cancer Hospital Guangzhou.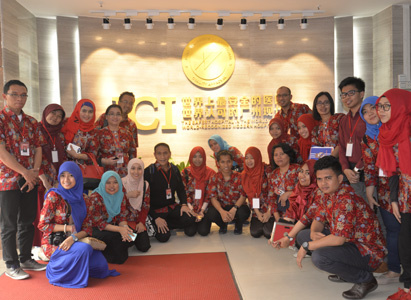 Joint photo of the medical delegation in front of the JCI image wall