Choose Minimally Invasive Therapy for Advanced Ovarian Cancer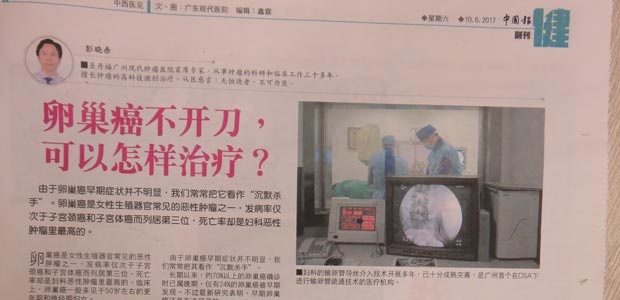 Malaysian China Press published a feature article on No Surgery, How to Treat Ovarian Cancer on Jun. 10, 2017. With the choice of 75-year-old Vietnam ovarian cancer patient, oncologist Prof. Peng Xiaochi from St. Stamford Modern Cancer Hospital Guangzhou illustrated that for early, middle and advanced cancer patients, especially for those who missed the moment for operation or unsuitable for operation, minimally invasive therapy featuring no surgery and slight toxic side effects has gradually become their new choice.
It was reported that after rejected chemotherapy in Singapore hospital, the 75-year-old lady, accompanied by her families, came to St. Stamford Modern Cancer Hospital Guangzhou for minimally invasive therapy, hoping to alleviate the side effects from cancer treatment.
For her condition, the Multidisciplinary Team (MDT) in St. Stamford Modern Cancer Hospital Guangzhou formulated a comprehensive minimally invasive treatment plan with interventional therapy and cryotherapy. Both treatments are of small trauma and few side effects. After several sessions of treatments, she didn't feel any side effects and uncomfortable, while tumor in her ovary shrank. She feels that her normal life returns.