Minimally Invasive Therapy Brings Hope for Cervical Cancer Patient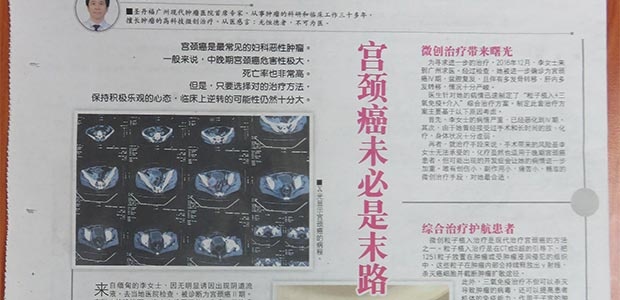 Malaysian China Press published a special report on Cervical Cancer May Not Be the End of Life on May 20th, 2017. With the case of cervical cancer patient Miss Lee, oncologist Prof. Peng Xiaochi from St. Stamford Modern Cancer Hospital Guangzhou illustrated that once you choose the right treatment methods, cervical cancer can be effectively treated and controlled.
According to the report, firstly being diagnosed, Burmese cervical cancer patient Miss Lee underwent radiotherapy and chemotherapy as well as removal surgery in local hospital. Her condition was well under controlled then. However, 2 years later, her tumor recurred with multiple bone metastases. Therefore, she started a new session of chemotherapy, but later she was too weak to endure pain and hurt during the treatment, so she started to seek other options with fewer side effects and less harm.
Therefore, she came to St. Stamford Modern Cancer Hospital Guangzhou. After a thorough checkup, she was diagnosed with cervical cancer stage IV with pelvic recurrence and multiple bone metastases as well as liver metastases. Based on her condition, doctors in MCHG tailored a comprehensive treatment plan of particle implantation and natural therapy as well as interventional therapy.
According to the report, this comprehensive treatment plan was made mainly based on the following reasons:
Firstly, Miss Lee's condition was very dangerous, she was too weak to endure the risk of surgery. Additionally, though chemotherapy was also applicable for advanced cervical cancer patients, the potential complications followed would aggravate her disease. Under this circumstance, only minimally invasive therapy featuring small trauma, few side effects and slight pain is suitable for her.
It was also reported that for cervical cancer treatment, besides particle implantation, natural therapy and interventional therapy that conducted on Miss Lee, cryotherapy, photodynamic therapy (PDT) and biological natural therapy can also be applied to cancer patients based on their specific circumstances. That is to say, once being diagnosed with cervical cancer, one should not give up easily, as long as find out suitable treatment, cervical cancer can be treated and controlled.