Breast Cancer Prevention, Start From Yourself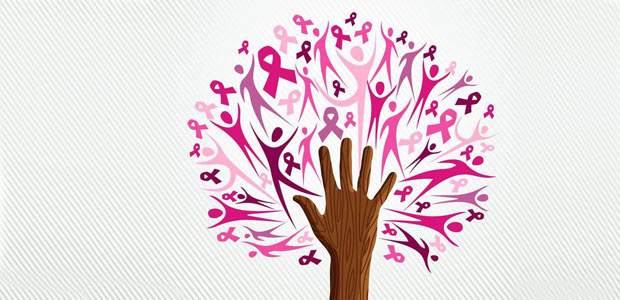 October is the Breast Cancer Awareness Month (BCAM), Pink Ribbon campaigns will be held all over the world to strengthen the consciousness of breast cancer prevention. The purpose of Pink Ribbon campaigns is "early prevention, early detection and early treatment". St. Stamford Modern Cancer Hospital Guangzhou reminds women to pay attention to breast health and breast cancer prevention. Below are the early symptoms of breast cancer
Early symptoms of breast cancer
1. Breast cancer patients in early stage are not able to touch clear lumps, but often accompanied with local discomforts. This situation happens very often specially in women after menopause.
2. Early stage breast cancer patients can reach bean-size masses in their breast grand, which are hard and movable but with no significant pain, while a few patients might bear intermittent pain or pricking pain.
3. Change of the breast shape. Visible skin bulge can be seen in the mass region, local orange peel -like skin, edema, and even discoloration may appear in some cases.
4. Nipples in the center are associated with nipple retraction; breast skin is accompanied with mild depression, nipple erosion, nipple asymmetry, skin thickening, coarsening, and enlarged pores.
5. Axillary lymph nodes swelling. Swelling in ipsilateral axillary lymph nodes is most commonly seen, while swelling in the supraclavicular lymph nodes has fallen into the advance stage.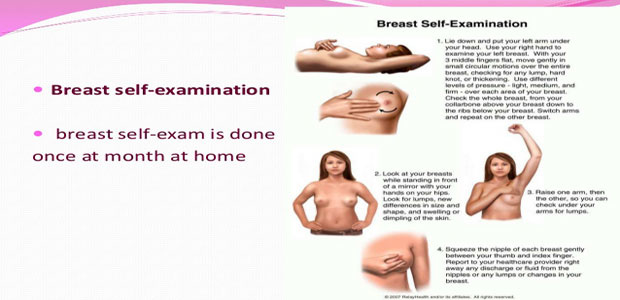 Methods of breast self-exam
Step 1: Lie down and put your left arm under your head. This spreads the breast tissue more evenly on your chest. Use your right hand to examine your left breast. With your 3 middle fingers flat, move gently in small circular motions over the entire area of the breast, checking for any lump, hard knot, or thickening. Use different degrees of pressure--light, medium, and firm--to feel breast tissue at different levels in your breast. Be sure to check the whole breast, from your collarbone above your breast and down until you feel only ribs below your breast. After checking your left breast, put your right arm under your head. Use your left hand to examine your right breast in the same way you checked your left breast.
Step 2: Look at your breasts while standing in front of a mirror with your hands pressing firmly down on your hips. Look for lumps, new differences in size and shape, and swelling or dimpling of the skin.
Step 3: While standing or sitting, slightly raise one arm, then the other, so you can check your underarm area for lumps.
Step 4:Squeeze the nipple of each breast gently between your thumb and index finger to check for discharge or fluid from the nipples.
Attention: when having breast self-exam, please use your fingers to touch your breast rather than grasp or squeeze, because you may mistaken the breast tissue foe mass. If yo find something abnormal, please go to hospital for further examination.
Breast cancer prevention
Breast cancer has become the biggest killer of women health. Actually, about 70% of breast cancer cases can be prevented. Here are some methods of breast cancer prevention:
1. Healthy lifestyle
Eat more healthy food and quit drinking and smoking.
2. Regular exercise
Recently, a study published in the Bulletin of the U.S. National Cancer Institute report shows that exercise can reduce the risk of breast cancer for women before and after menopause by 60%. A Norway research institution has investigated 25,624 women and found that those women who have weekly exercise at least 4 hours have 37% lower in the risk of breast cancer.
3. Weight control
Exercise can prevent breast cancer, and the fundamental reason is that it can control the body fat. A study of Harvard University showed that women who have rapid weight gain after the age of 18 would face 2 times of the risk of breast cancer after menopausal compared with those women who maintain the standard weight for a long time.
4. Do not drink alcohol
Experts of Modern Cancer Hospital Guangzhou believe that if you drink once every day, then the risk of breast cancer will be increased by 11% for you; if drink twice a day, the risk will be 24%; if drink more than twice a day, then The risk will increase to 40%. Therefore, it is advisable for these ladies who like drinking not to drink more than three times a week, and the amount for each shall be also limited.
5. Regular breast self-exam
Breast self-exam plays an important role in early detection. Experts of St. Stamford Modern Cancer Hospital Guangzhou reminds female friends to have breast self-exam once per month.
Above are some small tips for breast cancer prevention, hoping to help female friends. In addition, the experts advise: female friends should do breast health check twice a year.
If you have any questions, please contact our Kuala Lumpur Office of St. Stamford Modern Cancer Hospital Guangzhou. Call 010 20666616 to get more information about breast cancer prevention and treatment.