Minimally Invasive Treatment Shrank Stage IV Lung Tumor by 7cm*
"After discharge from hospital, I'd like to devote myself to work, to continue my career as a film director and to paint. " During the interview, RONI expressed his prospect of life after discharge. He is such a positive person. It's hard to imagine 6 months ago, he suffered from stage IV lung cancer with symptoms like difficulty in walking and breathing. With 6-month minimally invasive treatment, RONI is relieved to know the latest medical results from his attending doctor that the 10.66 cm tumor in his right lung has shrunk to 3 cm. At present, he is in stable condition, all he needs is to take regular recheck and succeeding treatment.
RONI and his attending doctor
​In face of stage IV lung cancer, he refused systemic chemotherapy
In April, 2017, RONI was diagnosed as stage IV lung cancer in local hospital, with a big tumor in right lung measuring 10.66 X 8.89 cm. The whole family was upset about this bad news, since March, he suffered cough and expectoration with unknown reason. He never thought it was cancer, let along stage IV of it. Back then, severe cough and expectoration kept bothering him and sometimes it's too hard to breathe without oxygen feeding device. He had difficulty in walking and depended on sleeping pills.
Local doctors suggested chemotherapy but he refused. As once he had a friend who has taken chemotherapy and suffered serious side effects such as hair loss, vomit, dizziness and dark skin. Then he decided to look for other cancer therapies.
​Combined minimally invasive therapy: fewer side effects and less pain
Deterioration led to severe pain, so RONI searched internet for treatment and found St.Stamford Modern Cancer Hospital Guangzhou. What drew his attention is that minimally invasive therapy featuring small trauma, less pain, no surgery and chemotherapy. "Cancer brought me pain and suffer. My family decided to take me abroad for treatment once they learned about minimally invasive treatment" he said.
On May 19, 2017, RONI arrived at St.Stamford Modern Cancer Hospital Guangzhou with families. "The hospital was just like a hotel, medical staff are all kind and considerate, they treat and take care of me as a good friend." RONI expressed his first impression on the hospital.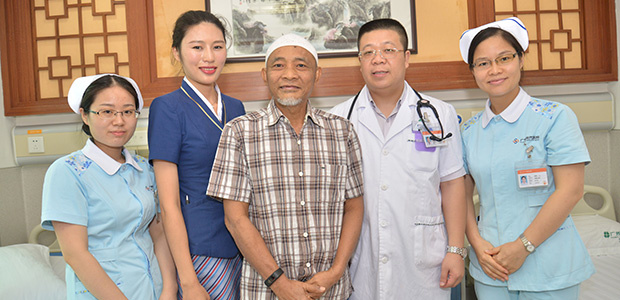 Upon the discharge, RONI takes picture with the medical staff
Based on his condition, the Multidisciplinary Team (MDT) in St.Stamford Modern Cancer Hospital Guangzhou conducted a thorough checkup and a specialized minimally invasive treatment plan including cryotherapy, interventional therapy, particle implantation and TCM &western medicine.
According to his attending doctor, cryotherapy has advantage of realizing equal efficacy of surgery, comparing to conventional therapy. Additionally, patients like RONI are too old to bear severe side effects of traditional therapies. Cryotherapy is a better choice. As one of advanced therapies, cryotherapy avoids risk and complications of surgery. Without general anaesthesia, it causes little damage to normal tissues. Moreover, combined treatment of interventional therapy, particle implantation and cryotherapy perform the best efficacy with least pain and smallest trauma. While TCM & western medicine strengthens the effect, relieves pain and side effects caused by treatment. As a result, it improves patient's overall immunity and health condition.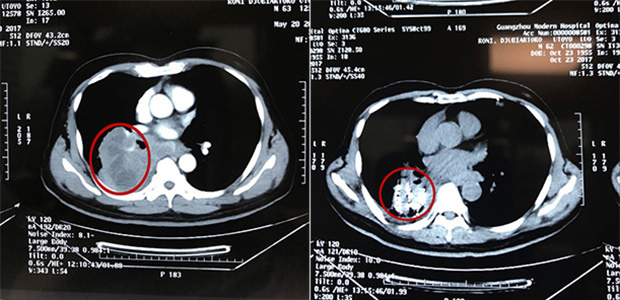 Before the treatment, the tumor measuring 10 cm vs After the treatment, the tumor shrank to 3 cm
Eventually, It's proved that RONI made right decision. Upon his first discharge on June, 21, he didn't need oxygen feeding devices anymore and his condition turned better. Second on July, 12, he could drive and go round. During his third admission in St.Stamford Modern Cancer Hospital Guangzhou, he even took a tour around Guangzhou. He loves traveling, which pleased and comforted him during the succeeding treatment. It was his fourth admission and the medical results indicated that big tumor in his lung has shrunk from 10.66 cm to 3 cm. He was so relieved on hearing the good news. "Great thanks should be given to my family and friends for support and help during the treatment."
​Symptoms likely to be considered as lung cancer:
Cancer experts from St.Stamford Modern Cancer Hospital Guangzhou remind you that in most cases, lung cancer deteriorate easily. So many patients were diagnosed in advanced stage. Please take checkup if the following symptoms occur:
1.Cough: According to different size and location of the tumor, one would suffer symptoms of dry cough, paroxysmal cough and cough with wheezing.
2.Hemoptysis (coughing up blood): 15% of patients cough with white phlegm. When the tumor breaks continuous or intermittent coughing with blood would occur. 25%-40% of patients cough up blood.
3.Chest pain: common symptom is uncomfortable in chest during early stage, when tumor invades chest wall, continuous and severe chest pain would occur.