Minimally Invasive Technology, New Hope to Treat Lung Cancer*
Testimonials: Be positive! Something is going to change!
I'm Mila Labor Gardon, 58 years old, from the Philippines. In 2014, I was diagnosed with lung cancer and then took surgery and intravenous chemotherapy in the Philippines. But the treatments didn't take effect, and cancer came back. On March, 2016, I came to Modern Cancer Hospital Guangzhou and took cryotherapy, interventional therapy, etc. At present, tumors in my lung have disappeared, and the value of tumor marker is normal. My condition has improved a lot.
It was back to 2 years ago. In my yearly body examination, the Filipino doctor found out a lump in my lung. But the doctor misdiagnosed it as pulmonary tuberculosis and I took tuberculosis treatments for 4 month. Later, I received CT scan and biopsy. The result showed it was lung cancer. During several months, cancer became stage III from stage I, and the tumor that was less than 1cm became about 11cm. I thought it was the result of misdiagnosis.
On hearing I got cancer, absolutely I was so sad. In fact, I was a strong person, so I treated it positively. And when my families knew the news, they were devastated and distressed. But gradually they accepted it.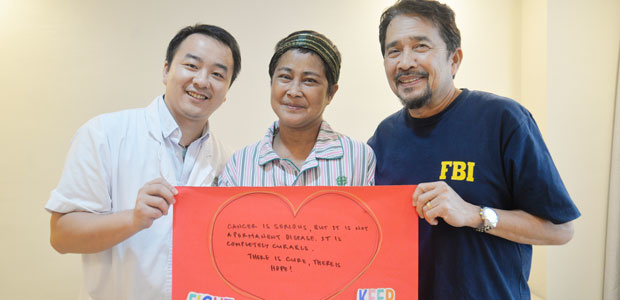 The couple and Doc. Zhang
Subsequently, I received surgery and chemotherapy in the Philippines. The surgery brought me big trauma and very slow recovery. Intravenous chemotherapy also had side effects for me, such as weakness, appetite loss, damage to kidneys etc. After I finished all the treatments, I came back to recheck my body. Unfortunately, all the treatments I took were not effective at all. Cancer came back and became more serious. And then, the doctor gave me much stronger chemo drugs, but they also did not work. In February this year, the examination showed that the number of tumors increased. What's more, except for the tumors in lung, cancers cells spread to my neck lymph nodes, skull and iliac bone. Therefore, we decided to find another treatment. And I found out Modern Cancer Hospital Guangzhou.
Actually, I knew about Modern Cancer Hospital Guangzhou a long time ago. Firstly, I found it on the Internet. Besides, I came across a cancer patient when I was on the way to Singapore. She told me she was cancer-free and recommended me Modern Cancer Hospital Guangzhou. She also gave me the contact information of the Manila office of the hospital. At that time, I still took treatments in the Philippines, and thought that it might be unnecessary to go for this hospital if the treatments were effective. However, the effect was not good really. Thus, I came to the Manila office for consultation and then chose cancer treatment in China.
In March, 2016, I arrived at Modern Cancer Hospital Guangzhou with accompany of my husband. Professional doctor team made an individual treatment plan which mainly based on interventional therapy for me. At first, I took cryotherapy, and then interventional therapy. Besides, I also took the treatment for liver and kidney protection. After the first time of visit, tumors in my lung were gone and the value of tumor marker decreased. And my kidneys which were damaged by chemotherapy became better.
So far, I have visited the hospital for 4 times, and the treatments haven't brought me side effects. Currently, my tumors in my lung have disappeared, and the tumor marker is in normal range. My condition is better and better. I hope that more good news will come.
I am very thankful to Modern Cancer Hospital Guangzhou and the medical team here. Technologies here are very modern and advanced, which focus on the least damage, fewest side effects and the best effect for cancer patients. They are suitable for my condition which was not sensitive to traditional cancer treatments. At here, we have more freedom. Every time when we want to go outside, doctors will allow if he assesses my condition is good enough. We went shopping, ate out, and even went to Hong Kong once. In addition, the activities in the hospital are wonderful. Last time, we went to watch dragon boat race with hospital organization.
Certainly, I also want to thank my husband who accompanies me, supports me and cares for me all the time. He always feeds me, and helps me to tailor, etc when my hands are unavailable to move during the treatment. He said that he would rather be the person who gets sick than me and he was willing to replace me to suffer. Before I got cancer, I thought I was the strongest person in my family. But after I got sick, the strongest person is him actually. Fighting cancer is not about me, but it is about my whole family, my friends and neighbors who support me a lot. I must fight for them.
At last, I hope that all the cancer patients will never give up. It is important to keep positive attitude, and something is going to change!