Lung Cancer Treatment
Lung cancer which is one of the malignant cancers causes most severe harm in the world, so can lung cancer be treated? Experts said that although cancer is an international hard nut, clinically there are many treatment options for lung cancer. For patients with middle and advanced lung cancer, their prognosis mainly depends on whether treatment methods are proper and patient's physical condition. The treatment for middle and advanced lung cancer mainly include chemotherapy, radiotherapy and traditional Chinese medicine, so how to choose the treatment most applicable to the patient?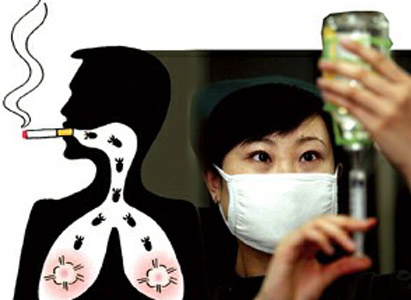 Lung Cancer Treatment
Treatment for lung cancer are mainly surgery, other treatment options such as radiotherapy, chemotherapy, natural therapy, traditional Chinese medicine, etc.
Surgery
Surgery is applied to remove tumors, including radical resection and palliative resection. But only patients with early and middle lung cancer are applicable to radical resection, which only accounts for less than 40% of the total patients with lung cancer.
Currently, surgery is still one of the major options for lung cancer treatment. The indications and types of surgery are determined by location, involved region of tumor and patient's general condition especially cardiopulmonary function reserve. The principle of surgery is to completely remove lesions and maximally preserve healthy lung tissues.
Radiation therapy:
Radiation therapy includes irradiation in cavity and irradiation in vitro. The devices include radium, X-ray machine, cobalt bomb, accelerator which are mostly used and post-installed machine, "photon knife" which are developed in recent years.
Radiotherapy can be also used as adjunctive therapy before and after surgery so as to increase resection rate and long-term survival rate after surgery, besides, radiotherapy is also applicable to squamous cell carcinoma that cannot be treated by surgery or that are recurrent and metastatic.
Radiotherapy can be divided into simple radiotherapy and comprehensive radiotherapy. Simple radiotherapy consists of radical radiotherapy and palliative radiotherapy. To choose which kind of radiotherapy should be in accordance with pathological types, extent, and metastatic situation of lung cancer, lung function and systemic conditions. Comprehensive radiotherapy combines radiotherapy with surgery and chemotherapy, which has higher survival rate than any other single treatment.
Treatment of Advanced Lung Cancer
For patients with advanced lung cancer, surgery should be tried to remove primary cancer and metastatic lymph nodes, supplementing with radiotherapy and chemotherapy and other lung cancer treatment methods.